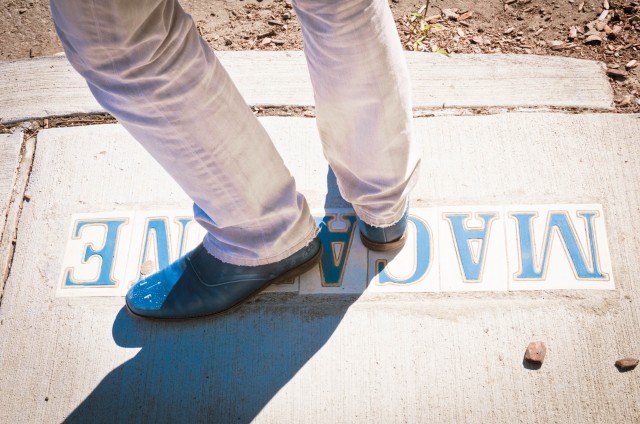 With the temperatures quickly plummeting in Montreal, it's hard for me to believe that, just a couple weeks ago, this was me:

It was 75°F (24°C) in New Orleans that day, and a gin and tonic was just the thing. We were lounging out on the patio of a place with goofy name, Down the Hatch, letting our skin remember what sunshine felt like.
We'd arrived by plane the night before, settled in at Melrose Mansion in the Marigny neighborhood. The old Victorian mansion-made-hotel is beautifully kept, and aside from a surprise nightly fee for wifi and amenities, we enjoyed our stay there.

We dropped off our things and wandered out to the nearby Frenchman street scene to get us a requisite sazerac. We got it, but the music was embarrassingly lame in the first bar, so we hopped around, striking out in the good tunes department, but finding some decent gumbo and another drink or two. We didn't think it would be that bad, but we hadn't expected much from that touristy drag anyway. We were tired from our long flight, and would get to the good stuff the next day.

Before the refreshing drinks on the patio, we visited Surrey's Café & Juice Bar. The cute little place resides on Magazine Street, and inside the walls and tables are adorned with colourful, handmade décor.
Their menu features local ingredients and a blend of Creole, Central American, and traditional breakfast fare. I could not wait to get my hands (I mean.. my mouth?) on some delicious Creole food, so I ordered up the shrimp and grits.
I would not be disappointed. I mean, just look at this: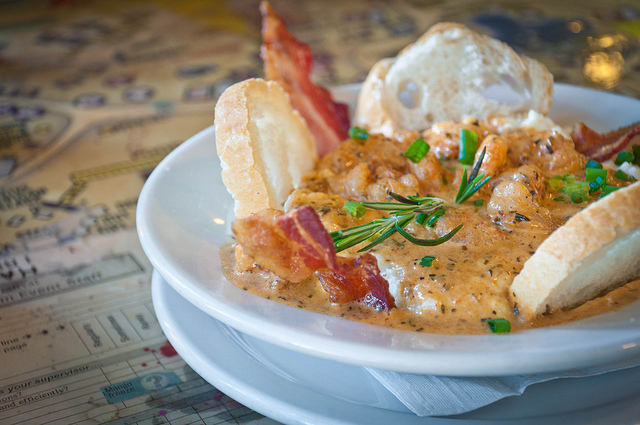 Amazing, right? I'm here to tell you it was just as good as it looks. In my notes, I wrote, simply, "oh hell yes." The balance of savory and spicy was perfect here, with succulent Louisiana shrimp and crispy, not-too-greasy bacon. The grits were divine, and I thoroughly enjoyed every bite.

Jesse got the migas with chorizo, which is basically scrambled eggs with veggies and more mixed in. It too was served with grits, as well as one of their fluffy, house-made biscuits. It seemed you really couldn't go wrong at this place.

Along with coffee, our bill was about $25, so while it wasn't the cheapest of breakfast places, it was wholly worth it. (We'd heard the juices were supposed to be great, but this time we weren't up for paying $5 a glass.) The service was attentive and friendly, and the atmosphere was relaxed and charming. They have two locations, both on Magazine Street (we visited their Lower Garden District spot), and if you go, make sure to note that they accept cash only.

Keep on the road with us! Here's the rest of the Blues, BBQ & Bourbon Roadtrip posts!:
Part 2 - New Orleans, Louisiana
Part 3 - Cajun Country, Louisiana
Part 4 - Shacked-Up in Clarksdale, Mississippi (& a bit of Arkansas)
Part 5 -  Memphis & Nashville, Tennessee
Part 6 - Kentucky

Want to check out the places I mentioned above? Here's the details:
Surrey's Café & Juice Bar 1418 Magazine Street New Orleans, LA 70130 Lower Garden District (504) 524-3828
www.SurreysCafeandJuiceBar.com
Open every day, 8am – 3pm Cash only (ATM on site)   Melrose Mansion 937 Esplanade Ave New Orleans, LA 70116 Marigny (504) 944-2255
http://www.frenchquarterhotelgroup.com/melrose-mansion.html
Continental breakfast, wifi, pool, workout room, wine & cheese served nightly