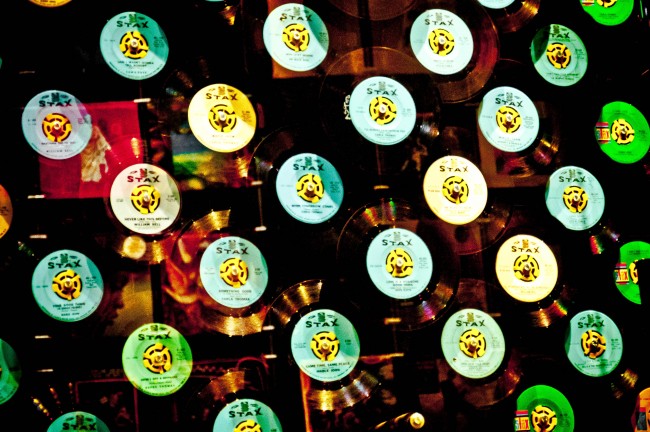 After we packed up at the Shack-Up, we drove up to Memphis to get some breakfast.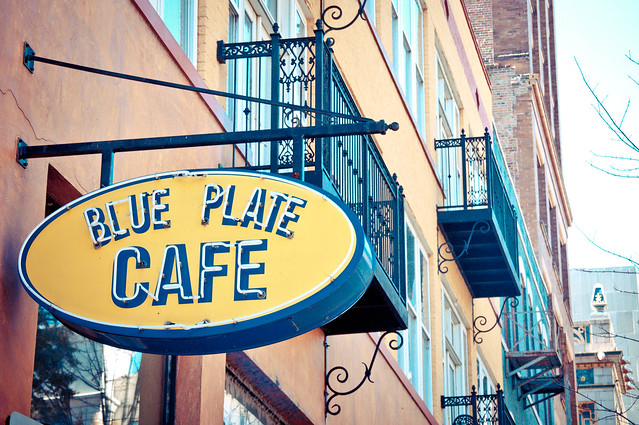 Blue Plate Café is a big, clean, welcoming place nestled in Court Square. We ordered simple breakfasts of eggs, grits, bacon, and their famous biscuits and gravy.  The biscuits were giant fluffy pillows of buttery goodness, and the gravy was savory, rich, & thick.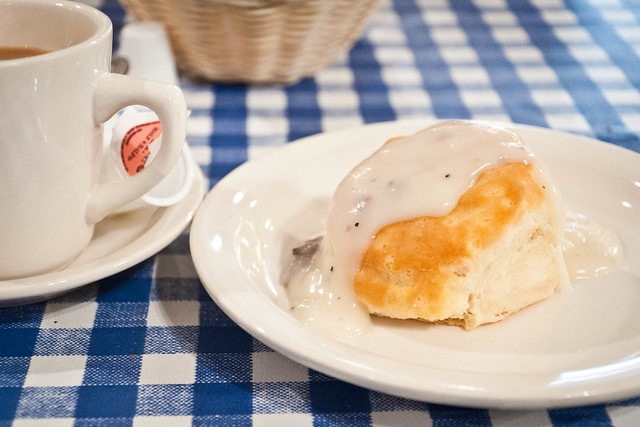 I don't make a habit of such heavy breakfasts, but if you're going to do it, this is the right place!  Everything was simply wonderful.
It almost felt strange to be in a big city after being in such small, remote towns.  It was a lovely day, and we enjoyed a nice walk.  Of course Memphis is known for music, so we made a point to check out some of its most famous spots. First on our list was Sun Studios, where Elvis famously got his start. We had a little extra time before our tour started, but we knew the perfect way to spend it.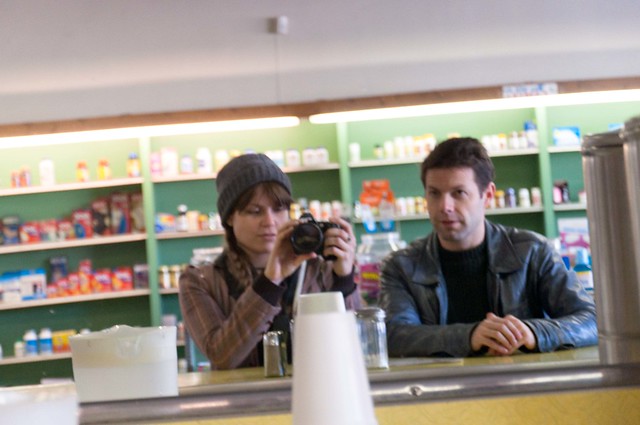 Ever since I was a kid watching It's A Wonderful Life, I've wanted to get ice cream at a drugstore counter.  These days, such things are hard to find, but Wiles-Smith Drugs is keeping the tradition alive.  You have no idea how happy I was to be there.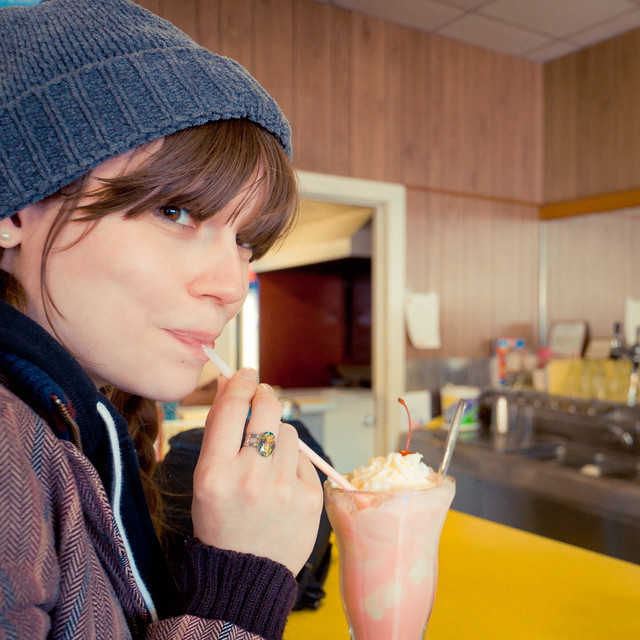 I got a cherry ice cream soda ($3.25) and Jesse got a chocolate shake ($4.25).  The gentleman making our shakes cracked some jokes (including a quip about me taking photographs of his artistic creations without his permission).  The place retains its vintage charm and the experience really hit the spot.  I was very happy to have finally fulfilled one of my childhood daydreams!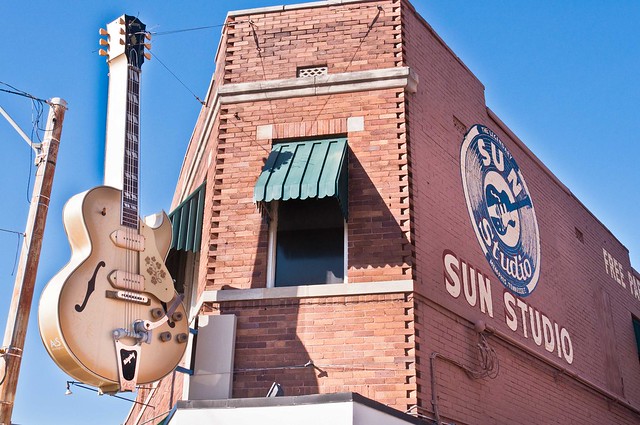 Next, it was time for the tour of Sun Studio.  It's a guided tour, with a group of mostly middle-aged couples.  Oh yeah, and an aging Elvis impersonator in full makeup.  SERIOUSLY.  It was weird.




I can't say it was the most exciting tour in the world, but was definitely worth doing.  The tour guide asked for tips at the end, which was awkward and a bit annoying, seeing as we'd already paid to do the tour in the first place.  However, everyone was given the chance to take a photo in the studio, so we got to see fake Elvis do his thing.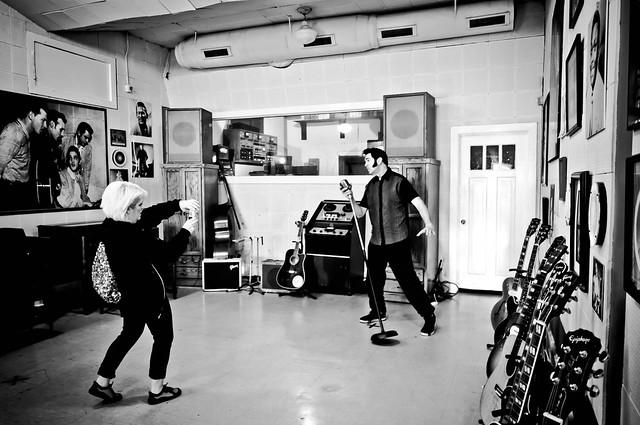 For dinner that night, we went to The Bar-B-Q Shop.  This place served us, hands down, the best ribs I've ever had the pleasure of eating.


The rack of ribs for 2 ($24.95) came with slaw, baked beans, and Texas toast, which were all delicious sides laced with the perfect amount of spice. But the main feature here were those amazingly tender ribs.  Coated with a nice dry rub, we were free to slather them with their wonderful house made sauce.  If you eat meat and you find yourself in Memphis, GO HERE.  You will not be disappointed.  Just thinking about it makes me want to catch the next plane to Memphis!
On our second day in Memphis, we visited the Stax Museum of American Soul Music.  As you can imagine, it was tons of fun!


Stax went bankrupt and closed down in 1976, and the classic exterior was left to deteriorate.  Luckily, when the museum opened in 2003, the building was restored to its previous glory.  The marquis, the needle… the place just looks cool - and it is.  Inside is a full museum, which you are free to peruse at your own pace.  We bought our tickets, watched a short film, and went on in.

The first room is the Hopper Chapel AME Church, which was moved to the museum from Duncan, Mississippi.  It's the perfect way to truly see the roots of soul music.  As you move on through the museum, there's lots of videos and text to enjoy.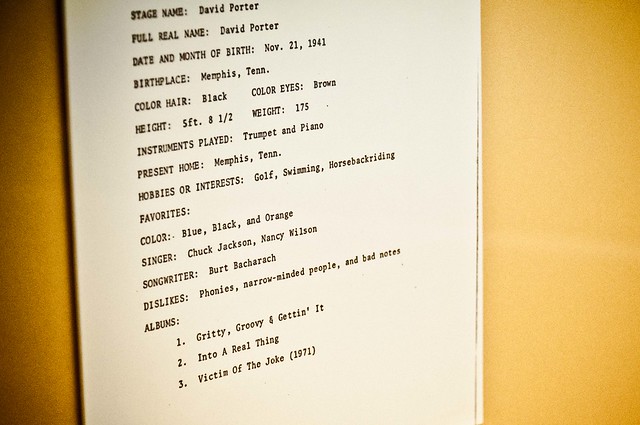 There's also lots of fun artifacts from the glory days of Stax: clothing, accessories, notes, contracts, even Isaac Hayes' swanky blue Cadillac on a big, rotating platform.



There's lots of records, and even a dance floor, if you're so inclined.  Finally you reach the gift shop, which has lots of cool stuff (thanks for the t-shirt, Jesse!!).  We had an excellent time.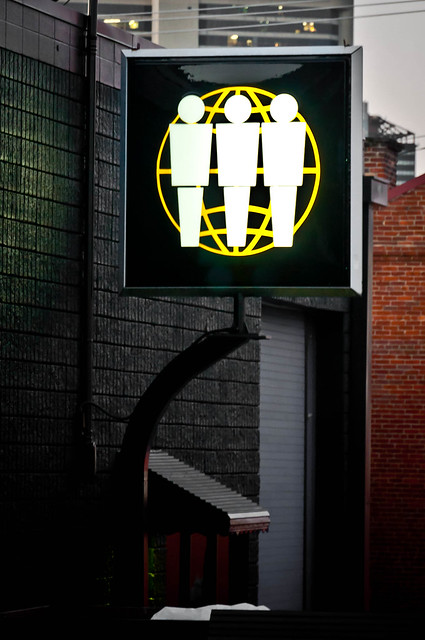 Sadly, as it goes with short trips, we had to keep moving, so we drove up to Nashville.  We had very little time there, but we certainly made the most of it by visiting Jack White's Third Man Records.  Jesse and I are huge fans, and he had tried to visit once before, but it was closed.  Tucked away from the main drags, just their shop is open to the public, but what a shop it is!  You get inside, and you never want to leave!
After ringing the bell and being let in by the fun and gracious Dani, we perused all the cool stuff inside.  Sadly, some of the fun curiousities (like the monkey band that plays unreleased singles) were turned off during our visit.  Dani explained that this was due to the new room of the shop that was being worked on behind the wall, so the electricity on that side of the shop had been switched off.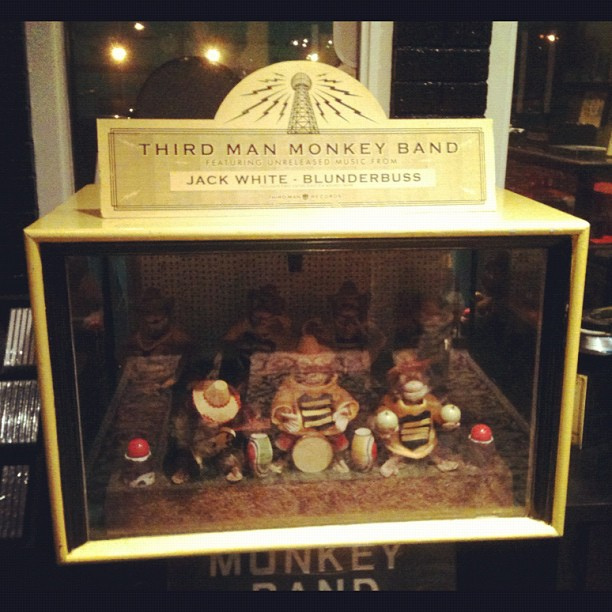 Still, we had a great time talking to her and checking out all of the limited edition goodies.  Low on cash and luggage space, I did an incredible job at resisting the White Strips Mini-Theremin (oh my god, I was in love…).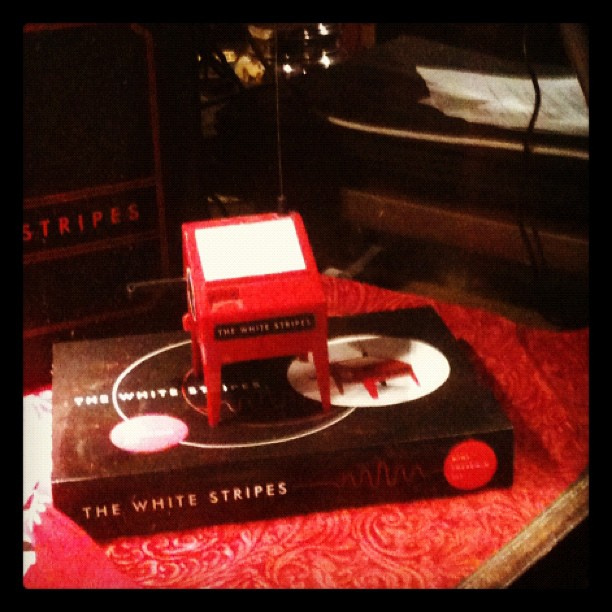 But the very best part was when, suddenly, we could hear Jack White behind that mysterious wall, playing a guitar and chatting with someone.  There was a hallway, and a door, that led to the other part of the studios, and at one point it opened up and we caught a 2 second glance of Jack chasing his kids around.  This, a mere glace, was enough to get J and I way too excited.  We finally had to tear ourselves away.  We enjoyed dinner and drinks at The Stone Fox (a place that Dani had suggested), and headed to Kentucky to sleep.  Read all about it in the final post of our Blues, BBQ, & Bourbon Roadtrip! 
Interested in the places mentioned in this post?  Here's the details:
Blue Plate Cafe 113 Court Ave, Memphis, TN 38103 (901) 523-2050 8am-2pm daily   Sun Studio 706 Union Ave, Memphis, TN 38103 (901) 521-0664 10am -6pm daily Tours given at the bottom of every half our from 10:30am – 5:30pm Tours price is $12 for adults (children 5-11 are free; kids younger than 5 not permitted)
http://www.sunstudio.com/
  The Bar-B-Q Shop 1782 Madison Ave, Memphis, TN 38104 (901) 272-1277 Mon-Sat 11am-8:45pm (closed Sundays)
https://www.facebook.com/TheBarBQShop
  Stax Museum of American Soul Music 926 E. McLemore Ave, Memphis, TN 38106 (901)-942-SOUL (7685) Tues-Sat 10am-5pm ; Sunday 1pm-5pm (Closed Mondays) Tour price is $12 for adults; $11 for seniors 62+, active military, and students with ID; $9 children ages 9-12 (kids 8 and under free with paid adult/senior admission)
http://www.staxmuseum.com
/   Third Man Records 623 7th Ave South, Nashville, TN 37203 (615) 891-4393 Mon-Sat 10am-6pm; Sunday 1pm-4pm
http://thirdmanrecords.com/
  The Stone Fox 712 51st Ave North, Nashville, TN 37209 (615) 953-1811 Mon-Fri 5pm-3am; Sat-Sun 11am-3am