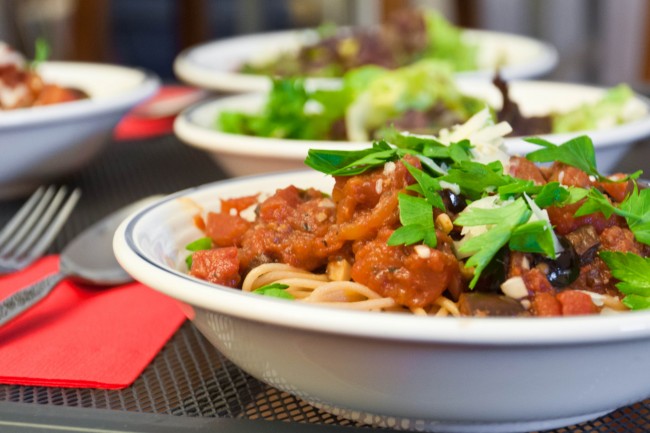 When I recently saw The Dean and DeLuca Cookbook in the window of a local used bookstore, I just had to have it.
You see, it's one of those cookbooks I've always loved but never actually owned. Jesse was kind enough to donate some store credit to the cause, and within minutes I finally owned this gem!

With its 500+ pages and encyclopedic breadth, this is a cookbook one can easily peruse for hours. The recipes are a blend of traditional fare and new classics, with flavours from all over the world. What makes this book stand out, though, is that it isn't just a collection of recipes. You'll also find an array of ingredient descriptions, in-depth how-tos and methodology, and historical snippets.  Remember when I made fresh egg fettucine from scratch, sans pasta maker?  This is the book that gave me the knowledge I needed, without any actual recipe.
This isn't a cookbook that just tells you what to put in a pot and how long to cook it; this book also helps you understand what you're cooking, and why it works.

Once reunited with this amazing resource, I was quick to make one of my favourites from the book: puttanesca sauce.

This hearty, comforting sauce is both simple and quick to make. The Southern Italian classic also comes with an intriguing story. The basis of the sauce's name is puttana, meaning, ahem, "hooker." I've heard a few variations, but the tale in this book says that such women in Naples needed something easy and filling to eat between, you know, clients.  Thus, puttanesca sauce was created! Whatever the case, it makes for a delicious meal (no matter what you do for a living).

I've made a few variations from the original recipe: The sauce has a lot of inherently salty ingredients, so I opt to rinse the olives and capers before adding them. I also don't add any salt, as the original recipe instructs, unless it really needs it at the end.  I also double the listed amount of red pepper flakes, because I like a little extra spice, but feel free to adjust to your tastes.
The sauce can easily be made vegetarian/vegan by omitting the anchovies, but this will diminish the overall flavour slightly. The recipe is very easy to double or triple, if you like, and it freezes very nicely. I like to make extra to have around in the colder months!

You can make the sauce earlier in the day, without adding the parsley. When you're ready to eat it, reheat the sauce for about 10-15 minutes over medium-low heat.  Then add the parsley and serve.
Enjoy the sauce over pasta (I like it with spaghetti; the book suggests linguine) with a little parmesan cheese for a lovely main course. It's also good with some Italian sausage, if you want to add some protein, and I'd also suggest some toasty bread to soak up the extra sauce.
Puttanesca Sauce
adapted from The Dean & DeLuca Cookbook by David Rosengarten with Joel Dean and Giorgio DeLuca

Puttanesca Sauce
Author:
adapted from The Dean & DeLuca Cookbook (Rosengarten/Dean/DeLuca)
Recipe type:
sauce, pasta
A quick n' easy recipe for a hearty pasta sauce. Sauce yields enough for 1 pound of dried pasta.
Ingredients
¼ cup extra virgin olive oil
2 tablespoons minced garlic
1 28-oz can plum tomatoes, drained
½ cup pitted kalamata olives, rinsed and halved
3 tablespoons coarsely chopped anchovies
2 tablespoons capers, rinsed
½ teaspoon red pepper flakes
¼ cup coarsely chopped fresh Italian (flat leaf) parsley
Instructions
Heat olive oil in a large pot over low heat. Once oil is shimmering but not smoking, add garlic and saute for about 10 minutes, or until it's fragrant and lightly golden.
Use your hands to crush the tomatoes (this can get messy, so be prepared!), squeezing out any extra juice. Add tomatoes to the pot, discarding the juice, and stir. Next, add the olives, anchovies, capers, and red pepper flakes to the pot. Stir to combine.
Bring the heat to medium-low and simmer the sauce until reduced by a third, about 20-25 minutes.
Stir and taste the sauce, and add salt only if needed. Stir in the chopped parsley.
Serve immediately over hot pasta, topped with grated parmesan cheese and extra parsley, if desired.
This is just one tasty example of the recipes The Dean & DeLuca Cookbook has to offer. It's a wonderful addition to your collection, and a great resource for home cooks of any skill level. So try out this hearty sauce, and pick up the book for yourself or as a gift for your favourite gourmand.
You can find some recipes at the Dean & DeLuca website, too!

If you're already familiar with the book, what are some of your favourite recipes? Let us know in the comment section!