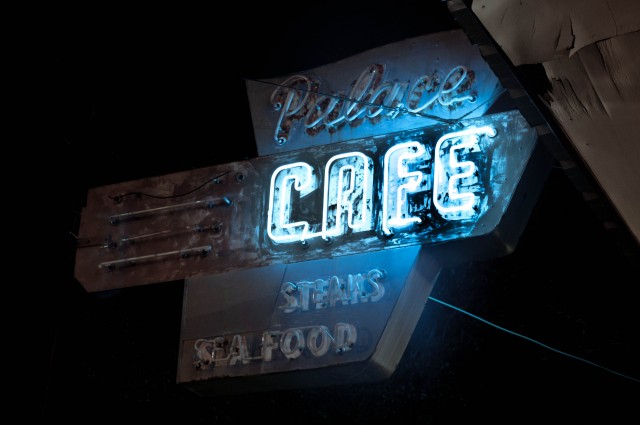 Here's part 3 of our recent roadtrip adventures! If you missed them, check out part 1 and part 2!
Though New Orleans was nice (and warm), our time there seemed surprising mellow. After solving the case of the missing car rental building, we were off to lesser travelled parts of Louisiana. Some unexplainable traffic on highway 61 was another set-back, but things were about to turn up. It was starting to get dark as we pulled into Opelousas, LA, but we knew good food was in store.

Research had enlightened us about Palace Cafe, a diner tucked away in Western Louisiana. The place has been around since 1927, and once the food was served, there was no doubt such longevity is deserved. I'd been craving crawfish étouffée since I'd landed in the South, so I ordered without thinking twice. Jesse began to follow my lead, when our waitress interjected, "do you not like bisque??" The urgency in her voice left him no choice, so crawfish bisque it would be. She certainly had not let him astray.
My étouffée was delightful: the perfect balance of smokiness and spice, full-flavoured and comforting, with juicy, perfect crawfish. At first glance, the crawfish bisque seemed pretty similar, but once I had a taste, I felt a bit jealous that the waitress hadn't questioned my choice as well.
The bisque was just brimming with deep, rich, intoxicating flavour. The best part, though, were those crawfish: stuffed with ground crawfish tails, breadcrumbs, peppers, and spices, for a result that was utterly divine.
It was about 7pm, and only a handful of tables were occupied. We were definitely the youngest people there; everyone else, including the waitresses, seemed to be at least 50. It really felt like a beloved local joint, and a nice change from the often touristy New Orleans. Our waitress chatted us up for a while, explaining that their roux is made with oil, not butter, and raved about the local Tony Chachere seasoning mix that the restaurant uses.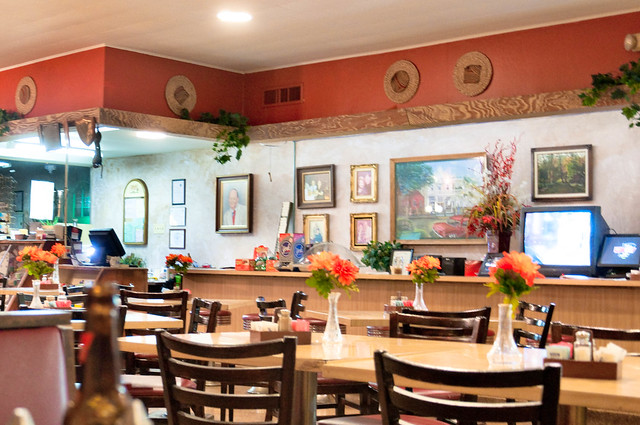 To finish off our lovely meal, we indulged in some house made pie. Jesse had the pecan pie (I thought I didn't like pecan pie until I tried this one). Picking up on our waitress' good taste, I asked for her recommendation, and ended up with a light and delectable slice of lemon pie.

We left Palace Cafe with full stomachs and big smiles. If you ever find yourself out that way, don't you dare skip it. If it's not the perfect example of a hidden gem, I don't know what is!
After our wonderful dinner, we drove a bit longer to our final destination for that day: Mamou, LA. We'd come here for a very specific purpose, but first, we needed to settle in.

We'd reserved a room at Hotel Cazan, an old place under new management. Built in 1912, it's been recently renovated, and although our room was small, it was cozy and clean.  It's also about the only place to stay in town. Mamou is home to about 3,000 people, and in many ways felt like a different world to us city folk. After the hotel's owner, Bart, showed us to our room, he invited us to the hotel bar downstairs. There we saddled up for some whiskey, got to know Bart and the bartender, Emily, and learned a bit about the place we'd just descended upon.
Emily is a charming and smart young lady, who'd recently moved from New Orleans. Impressively, she studied forensic anthropology, which made for some fascinating conversation. She said that there in Mamou, she's still having to face life as an "outsider," as there simply aren't many of those around. Bart is slightly less of an outsider, hailing from the area where we'd just enjoyed dinner. He was very friendly and open and explained the interesting dynamics of Mamou life. The Cazan bar was empty when we initially got there, but two other bar/clubs in town were packed with teenagers. It seems these kids are prone to fighting over girls and such, which is why Bart made the age limit at Cazan 25+. There were all sorts of rules, written and unwritten, about drinking. And, we were told, we were bound to meet a lot of people named Fontenot.
We were entertained with all sorts of stories through the night. Bart was not shy about telling us how he'd lost three fingers on his left hand in a water-skiing accident as a teenager. Locals who rolled in throughout the night were forthcoming about their lives, which primarily revolved around Mamou. Everyone was so nice, and we had a blast. It had been a long day for us, starting in New Orleans and ending up here, but we still managed to stay at the bar until 1am, when we finally decided to turn in.
Staying up all night was not the brightest move, since we knew all along we'd be getting up early. See, the whole reason we'd come to Mamou was to experience Fred's Lounge. It's a popular Saturday tradition, though, so to get a seat, you gotta get there early!
After sluggishly and reluctantly crawling out of bed, we crossed the street and headed to Fred's. Yes, I ordered the requisite 8am drink, but I also ordered a tall glass of water. I have never wanted so badly NOT to drink in my life, but when in Mamou…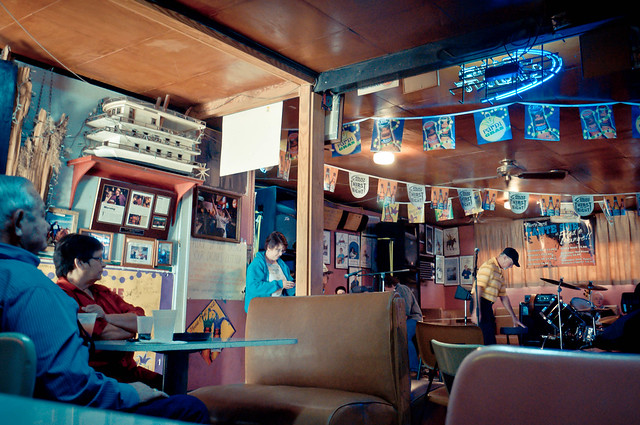 But this wasn't about the early morning boozing. We, like everyone else, were here for the music.  For the last 50 years, this place has been hosting Cajun bands and broadcasting the music over local radio waves. People from all over the area come to Mamou on Saturday mornings for the show, and by 10am the place was so packed it was hard to move around.  It's an older crowd, and there's a lot of local bikers, but everyone gets up to dance and has a good time.  When the guest book came around, we were the only people on the list that weren't from Louisiana.  The drinks are cheap and simple, and our young bartender (a Fontenot, of course) was very welcoming and conversational.  We were sitting next to an older couple that instantly latched on to us.  We mostly chatted with the woman, who made sure to get up and show us how to waltz.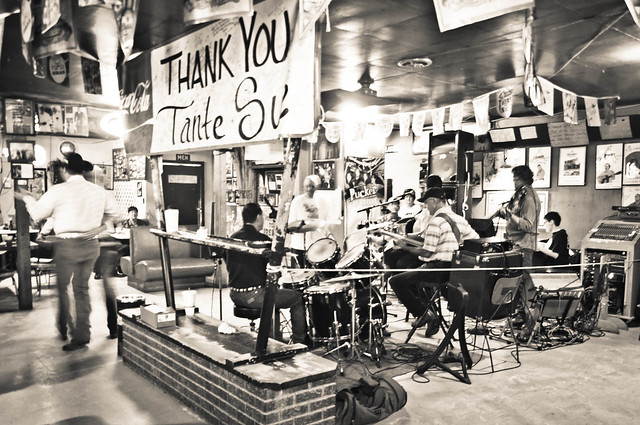 The music was amazing.  The fiddle, the accordion, the Cajun drawl… a truly special experience.  If you're looking for traditional Cajun music, you have to travel to Fred's for a Saturday morning show.  Mamou is the Cajun music capitol of the world, after all!

By 11am, after all that drinking and no eating, I really was in need of some food, so we left ol' Fred's and got ourselves some food at a diner across the street.  Another band was setting up to start playing at the bar at Hotel Cazan, but sadly we were running on a schedule.  When we went to drop off our keys, we discovered Bart had reserved seats for us, which we sadly had to decline.  The couple we'd met at Fred's were there, and the woman made sure we gave her hugs before we left.  We said our goodbyes, thanked Bart for his hospitality, and were on our way.

We had one last stop before we left Louisiana: Floyd's Record Shop.  Located in Ville Platte, LA, this is the place to go if you're looking for Cajun, swamp pop, and zydego records.
There are tons of pristine, unplayed 45s on the label of the shop's sister company, Flat Town Music, and Sparrow, another local label.  They also offer a large selection of LPs, cds, local souvenirs, and instruments, including accordions.  The manager, Cecil Fontenot (who crafted some of these accordions), greeted us and was very helpful and friendly (good ol' Southern hospitality!)  He clued us in on some history, told us of a great place to eat nearby (sadly, we didn't have time, but I took note for next time!), and gave us free posters.  We were surprised to learn that the shop was going to be closing down at the end of 2012 after over 50 years of business.  Still, their online store should be operational, and the tradition will continue in the virtual realm.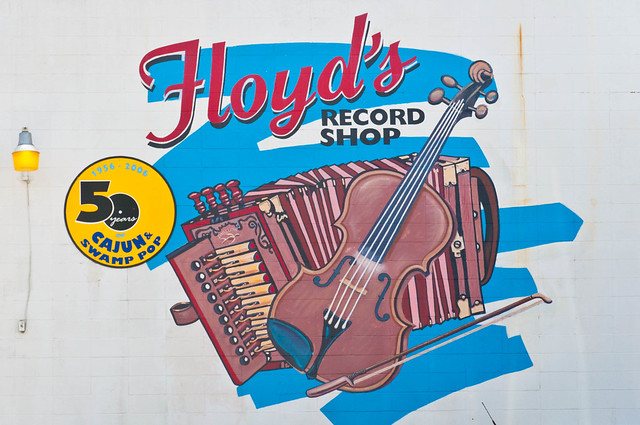 After that, we were on our way to Clarksdale, Mississippi, a town soaked in history and blues.

There's still a lot of road left! Here's the rest of the Blues, BBQ & Bourbon Roadtrip posts!:
Part 4 - Shacked-Up in Clarksdale, Mississippi (& a bit of Arkansas)
Part 5 -  Memphis & Nashville, Tennessee
Part 6 - Kentucky
Interested in the places mentioned in this post?  Here's the details:
Palace Cafe 135 W Landry St Opelousas, LA 70570 (337) 942-2142 Mon-Sat 6am-9pm Closed Sunday   Hotel Cazan (and Bar) 401 6th Street Mamou, LA 70554 (337) 486-5100 Bar hours: Friday 8pm - 1am, Saturday 11am-4pm, 8pm-1am
http://www.hotelcazan.com/
  Fred's Lounge 420 6th Street Mamou, LA 70554 (337) 468-5411 Saturday: 8am - 12pm (get there early if you want a seat!) Closed Sun-Fri   Floyd's Record Shop Ville Platte, LA (closed as of 12-24-2012)
but you can still find them at:
http://www.floydsrecordshop.com/