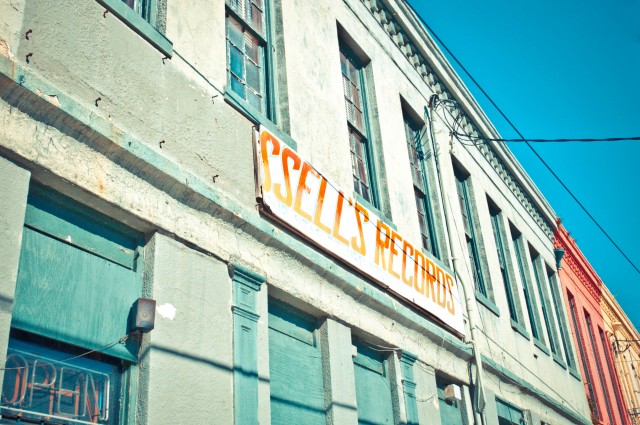 (This is a continuation of our New Orleans to Chicago roadtrip… to read part one, click here!)
After enjoying a drink in the unseasonably warm sunshine, we made our way to Jim Russell's Rare Records.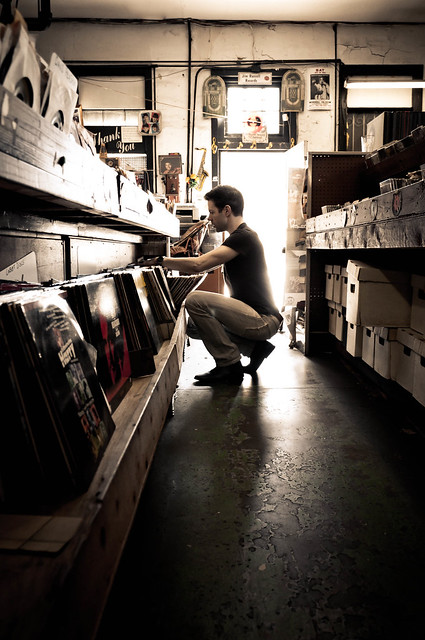 The shop, which opened in 1969, is packed full with rows after row, box after box, of LPs, 45s, cassettes, CD's, video games and more.  Sure the place is a bit of a mess, but if you're willing to dig, there's plenty there to go through.  Niecy, Jim's wife, told us the place was extra dusty after hurricane Issac.  Friendly and warm, she chatted with us while we shopped.  Jesse found a few cool things there, and the prices were pretty reasonable too.

By this time we were in need of some food, and we ended up at a place called Cochon.  The problem was, we weren't where we thought we were.  J had seen a place on Yelp that looked good; a sandwich joint.  But the Yelp entry was a bit confusing, as Yelp entries too often are.  Both the restaurants are owned by Donald Link, New Orleans chefepreneur (leave me alone, spellcheck…) and they're basically right next to each other.  The sandwich shop, according to the sign outside, is simply called "Butcher," but Yelp has it listed as "Cochon Butcher," and has both of them listed at the same address.  So when we saw the big sign for Cochon, we walked right in.  It pretty clearly wasn't the sandwich place we'd read about, but we sat down anyway.

Jesse ordered the only sandwich on the menu there: fried oyster and bacon.

It was big; the kind of sandwich you have to tackle with a fork and knife.  The flavours were great and he thoroughly enjoyed it, along with an intriguing smoked beer, courtesy of Louisiana's Bayou Teche brewery.

I kept it simple with the pork and black-eyed pea gumbo and a side of smothered greens.  The gumbo was nice n' smoky, and the greens were divine. (I just love me some Southern greens!)  Our waiter was very knowledgable and helpful, able to confidently answer any questions we had about the menu, and very attentive too.  The smaller plates offered were about $10-12, the entrees $15-35, and the delicious-sounding cocktails were $8-10.  They also have a good number of wine, beer, and bourbon offerings.  The restaurant is large and would be perfect for anything from a business lunch to a date night.  For our post-record-shopping lunch, however, it was a bit on the pricey side.

The next day, however, we fixed our mistake and returned to go to Butcher, next door.

Even on the official websites for these restaurants, the address is listed as the same thing, but it's helpful to know that Butcher is right around the corner.  These were the sandwiches we'd read about.  As I stared at the menu, I really had no idea what to get, so I went with the "Cochon muffuletta."
As we waited for the food, Jesse said he was surprised I'd chosen that, and it turns out I didn't know anything about muffulettas except that they're a New Orleans thing.  I was happy to see that what I received wasn't the bready monster that Jesse had described to me, although it was still way too much for me to eat.  It was good, although perhaps not really my thing, but I still enjoyed about half of it before I could not eat another bite.
Jesse's Buckboard bacon melt was really scrumptious, and a much more manageable size.  Both came with their house-made potato chips.  Jesse also ordered a refreshing quinoa salad for just $3.
The sandwiches ranged from $8-12, and you get a lot for that price.  They also offer take-out, which is nice, since there isn't a lot of seating and it was quite crowded when we were there. They also have some items for sale, like t-shirts, hats books, and their tasty Cochon hot sauces.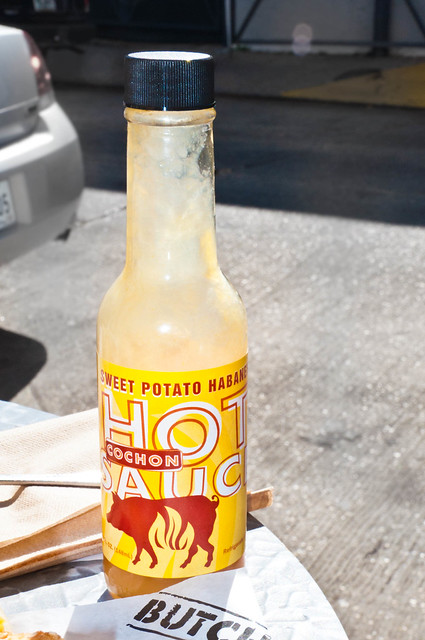 After New Orleans, we headed out to Western Louisiana to get our fill of Cajun Country!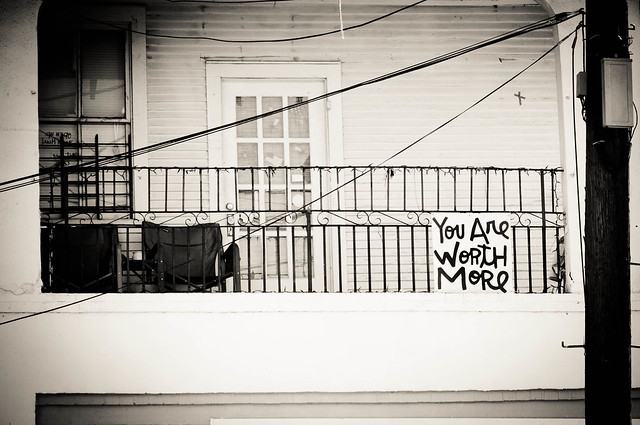 There's still a lot of road left! Here's the rest of the Blues, BBQ & Bourbon Roadtrip posts!:
Part 3 - Cajun Country, Louisiana 
Part 4 - Shacked-Up in Clarksdale, Mississippi (& a bit of Arkansas)
Part 5 -  Memphis & Nashville, Tennessee
Part 6 - Kentucky
Interested in the places mentioned in this post?  Here's the details:
Jim Russell's Rare Records 1837 Magazine Street New Orleans, LA 70130 Lower Garden District (504) 522-2602
http://jimrussellrecords.com/default.asp
Mon-Sat, 11am – 5pm Closed Sunday   Cochon 930 Tchoupitoulas St. New Orleans, LA 70130 (504) 588-2123 Central Business District
http://www.cochonrestaurant.com/
Mon-Thurs 11am - 10pm , Fri-Sat 11am – 11pm Closed Sunday   Butcher 930 Tchoupitoulas St. (It's actually around the corner on Andrew Higgens Drive, but this is the address that their website offers) New Orleans, LA 70130 Central Business District (504) 588-7675
http://www.cochonbutcher.com/
Mon-Thurs 10am – 10pm, Fri-Sat 10am – 11pm, Sun 10am – 4pm