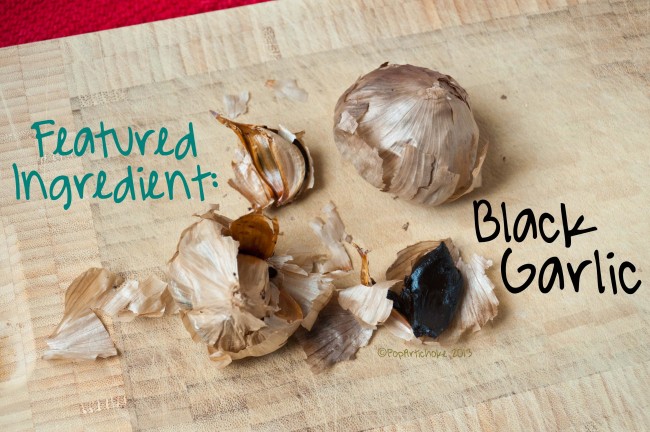 Recently, I got my hands on some black garlic.  Isn't it beautiful?
I'd seen it listed in Asian recipes before, but never had the pleasure of meeting it face to…er…bulb.  When I first picked it up, I thought something was wrong.  Have you ever had garlic that's gone bad, and it's all soft and mushy?  That's how this felt.  But the use-by date on the package was still months away, so I soldiered on.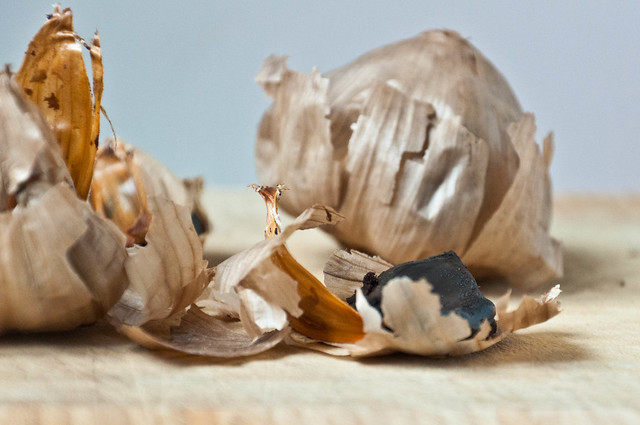 I started to peel away the beautifully auburn skin to reveal a shiny black clove.  Unlike the regular kind, black garlic has a gummy texture, with a stickiness that made it difficult to slice.  It smells similar to raw garlic, but richer; sweeter.  All of this, including the colour, is simply the result of fermentation!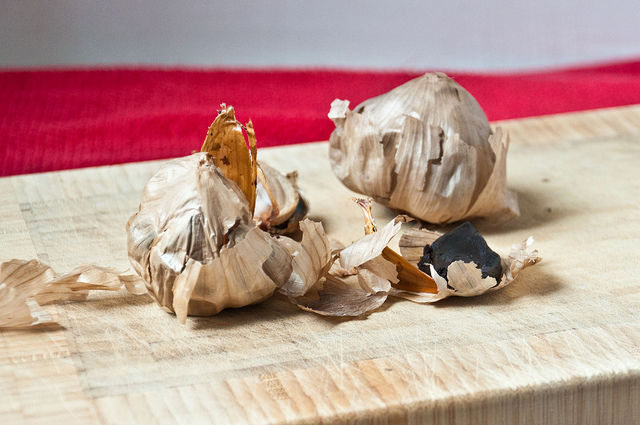 I couldn't wait to taste the stuff!  I decided to make a black garlic sauce to serve with a tofu and beef stir-fry.  (Note: I used pre-cut beef cubes, but they weren't as tender as I would have liked.  In the recipe, I suggest flank or sirloin steak cut into strips.)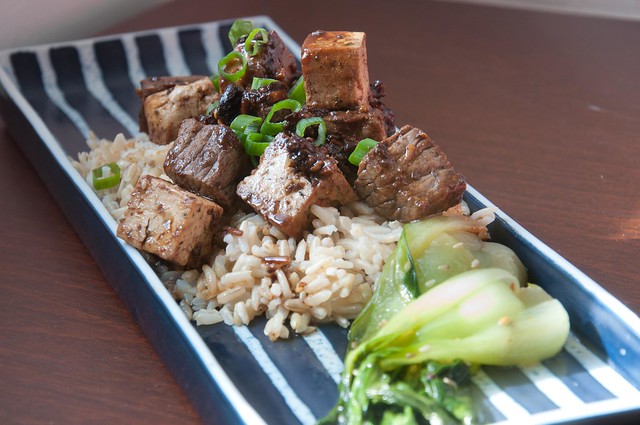 Black Garlic Sauce
Author:
Megg S (PopArtichoke)
Ingredients
3 tablespoons rice vinegar
1 tablespoon maltose or honey
2 tablespoons soy sauce (dark is best)
½ teaspoon chili oil
¼ teaspoon sesame oil
1 tablespoon peanut or vegetable oil
4-5 medium black garlic cloves, minced
Instructions
Mix rice vinegar, maltose, soy sauce, chili oil, and sesame oil in a small bowl.
In a saucepan, heat 1 tablespoon of peanut or vegetable oil over medium heat. When oil is hot, add garlic and sauté until fragrant, about 45 seconds.
Stir the sauce in the bowl once more, then add to saucepan. Raise heat to medium-high, and stir continuously until the sauce begins to boil.
Let the sauce boil, stirring constantly, until thickened slightly (about 1-2 minutes).
Remove from heat and use as desired.
Spicy Tofu and Beef Stir-Fry with Black Garlic Sauce
Author:
Megg S (PopArtichoke)
Ingredients
16 oz (450 g) extra firm tofu, rinsed, pressed, and cubed
2.2 lbs (1 kg), Flank or sirloin steak, thinly sliced
3 cloves black garlic, minced
3 jalapeno peppers, or 1-2 fresh green cayenne peppers, minced (include seeds if you like it spicy!)
1.5-inch piece of ginger, peeled and minced
⅓ cup diced white onion
¼ cup peanut oil
3 tablespoons low-sodium soy sauce
½ tablespoon freshly ground black pepper
¼ tablespoon sea salt
3 tablespoons sesame oil
Black Garlic Sauce (see recipe above)
3 tablespoons toasted sesame seeds
1-2 scallions, thinly sliced
Instructions
Place tofu cubes and beef slices in a large bowl. In a separate small bowl, mix black garlic, hot pepper, ginger, onion, peanut oil, soy sauce, pepper and salt to make marinade. Pour marinade over tofu and beef. Stir until tofu and beef is well-coated.
Cover the tofu and beef with plastic wrap and let marinate in the fridge for 1-3 hours. Remove bowl from fridge 30 minutes before cooking.
Heat a wok over medium-high heat. Swirl in sesame oil until center of wok is evenly coated. When oil is hot, add beef to center of wok. Stir-fry for 2-3 minutes, then add tofu. Stir-fry until beef is cooked through and tofu is lightly browned.
Pour black garlic sauce over the meat and tofu and stir. Sprinkle with sesame seeds. Spoon tofu and beef over rice and garnish with scallions. Serve immediately, and enjoy!
Have you cooked with black garlic before?  What are your favourite recipes?