A couple days before Christmas, I got home from an exhausting day at work and plopped down in a chair. I had a lot of last-minute holiday baking to do, but all I wanted to do was relax. As I tried to motivate myself to just do it, I glanced at my bedroom door and saw two packages sitting next to it. One was from Amazon; yep, that was the last of the gifts I'd ordered. But what was that white box? I wasn't expecting anything else!

I took a peek and realized it was my cookie care-package from the lovely Tofugirl of Open Mouth Insert Cookie. And that I did… well, more like open package, squeal with delight, take lots of photos, and then open mouth and insert cookie. Okay, cookies. But at least I didn't eat ALL of them in one sitting. Trust me, I wanted to!

Look at all these delicious offerings! Here's the list: Double ginger cookies, vanilla shortbread, green tea shortbread, giant chocolate chip cookie, and linzer cookies. She's the best, isn't she?

She also sent along this panko chocolate bar, which I haven't tried yet because I'm so excited to try it. And yes, I know that makes no sense.
——————————————————————————————————————————————
Well, getting that box of deliciousness made me feel happy, but it also made me feel inadequate for once again failing to be timely about holiday cooking. It's not like the holidays happen at the same time every single year with lots of hype to remind me or anything…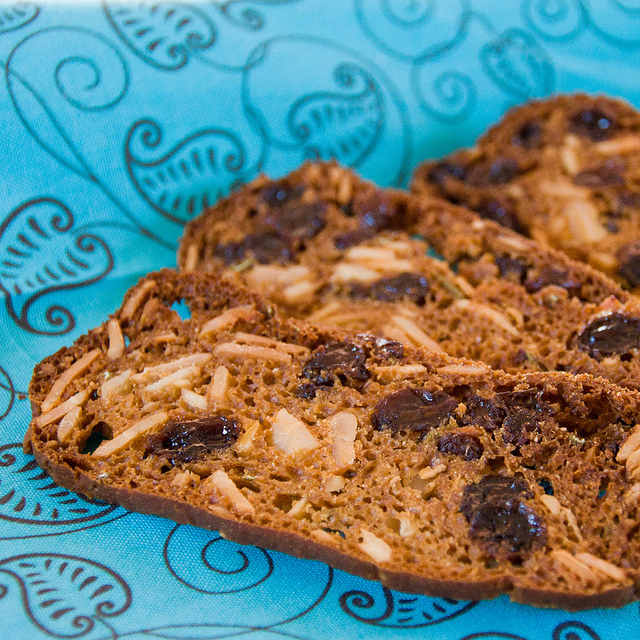 But, don't you worry, I did actually make something. I made those rosemary raisin crisps that I posted about the other day, and three kinds of brownie bites. I was actually pretty proud of the idea to make three kinds, as everyone was super impressed. Best part is, it was super easy. If you ever want to make people three times as happy with barely any extra work, I'll tell you what I did.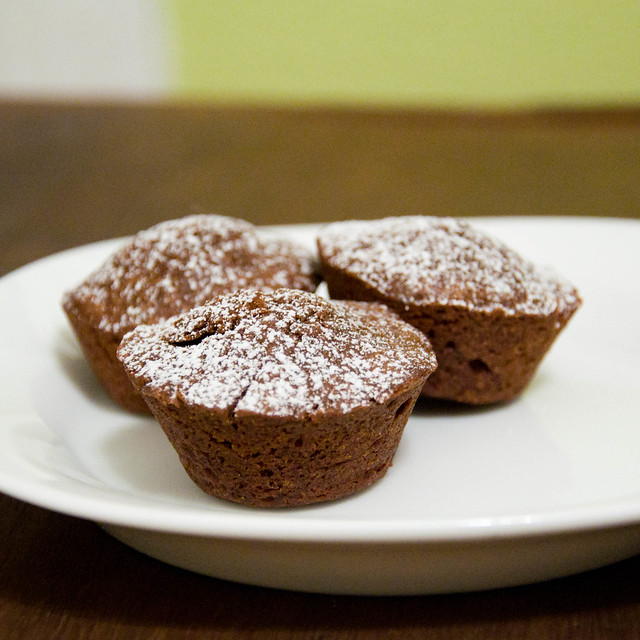 I just made a triple batch of brownie batter. I filled up the cups for the first batch, and sprinkled Himalayan pink sea salt on top. Voila! Sea salt brownie bites. Then I filled up the pan for the second batch, and pressed a chocolate-mint candy into each. When I gave these out, I suggested enjoying them warm, because then they're like mini minty volcano cakes. Stunningly simple, yet hella impressive. I was on a roll. Then, for the last batch, I just added a tablespoon of instant espresso powder to the batter, and I had espresso brownies. I dusted them with powdered sugar to pretty them up. Look at these guys!

Also, this gave me the excuse to say "brownie bites, three ways" as if they were some kind of fine dining fare.
The last thing I made was candy-cane cookies n' cream ice cream. I'm afraid to take it out of the freezer and photograph it, because I might eat it all instead of give it away. You'll just have to take my word for it for now.  UPDATE: Alright, I got the photos of the ice cream, but warning, it looks as delicious as it tastes!:  Candy Cane Cookies 'n' Cream Ice Cream