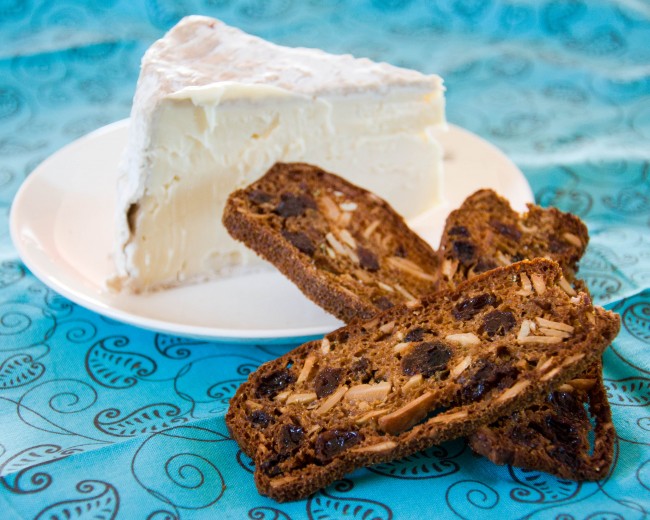 It all started when I discovered Trader Joe's Rosemary Raisin Crisps. Almost instantly, I was hooked. Problem was, like any addiction, it was starting to get expensive. Not that they're really that pricey, but still more than I wanted to spend on crackers.
Plus, they have sunflower seeds in them, which I'm not particularly fond of. I find that they tend to get bitter (technically rancid, I guess, from the high oil content) and every once in a while I'd bite into a crisp to find a bitter seed, ruining my delicious snack. Boo!
So, being the kind of person that always wants to make things from scratch for the adventure (and the money-saving), I looked up recipes.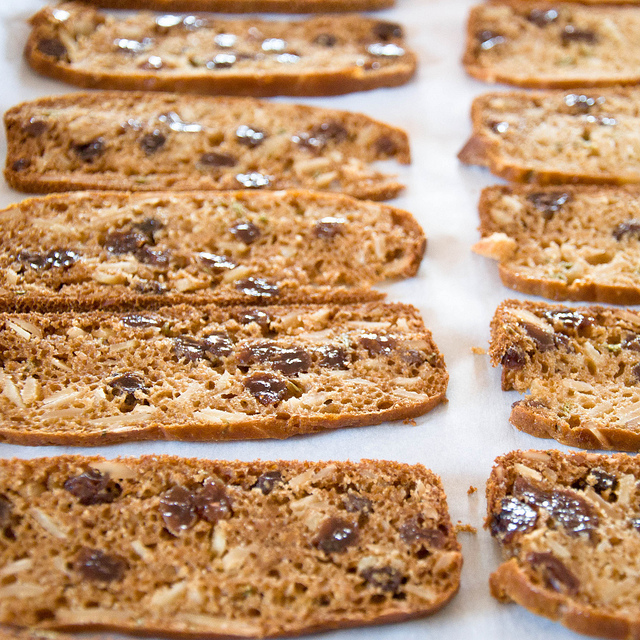 This was right after I'd completed the extravagant opera-themed cocktail party for my sister when she left for grad school, so the opera-food connection was still fresh in my mind. So imagine my delight when I stumbled upon a fantastic recipe… on a site called Opera Girl Cooks!
I was probably a little too excited about this serendipitous happenstance. But I made the crisps as written in Coco's recipe, except I substituted almonds for walnuts. One, because I'm kind of ho-hum about walnuts, and two, because I fricken' love almonds and already had some on hand.
The crisps turned out great. I thought they needed just a tad more sweetness, so second time around I substituted some sugar for part of the honey.
But let me tell you, these crisps are fantastic. They're ridiculously easy to make, but seem really fancy. The overall time is several hours (due to the double baking, and cooling and freezing in between) but the active time is maybe half an hour. Perfect when you're doing other things, like wrapping presents.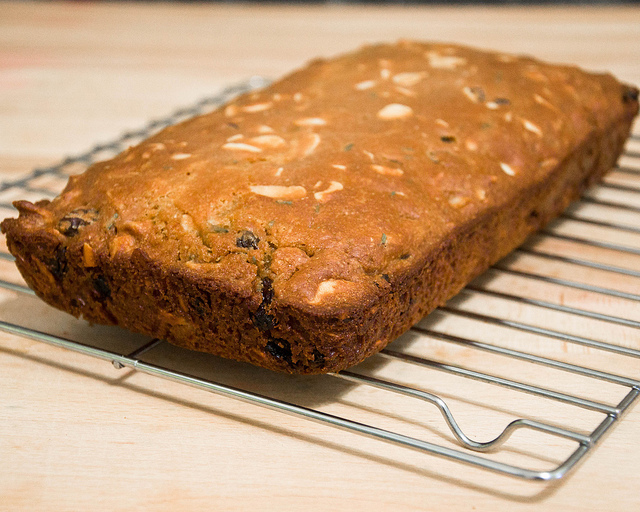 I'm partial to serving them with a good triple-cream brie (Trader Joe's Delice de Bourgogne is divine with these crisps). Talk about an impressive party appetizer (or midday snack, or midnight snack, or breakfast. Yessss, I've had them for breakfast.) They also make a great edible gift, so if you're like me and are making your holiday goodies at the last minute, the easy and quickness is awesome. Plus, your gift will stand out among all of the cookies and candy canes. Not that I'm knocking cookies and candy canes…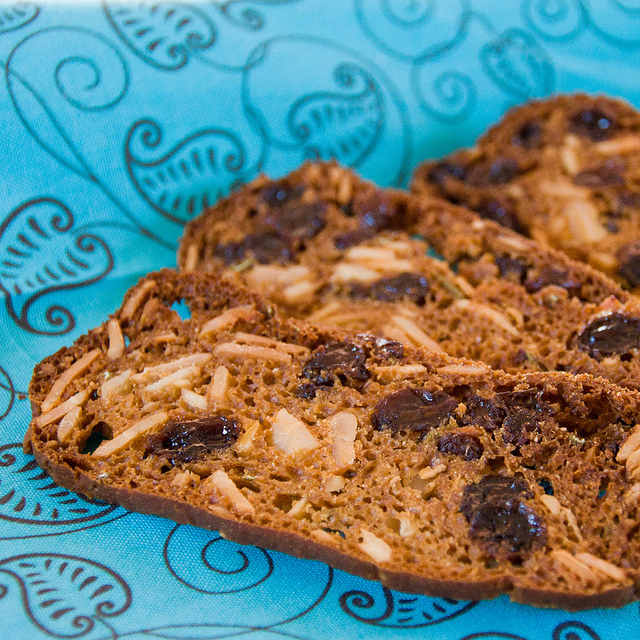 Rosemary Raisin Almond Crisps
(adapted from Opera Girl Cooks)

Rosemary Raisin Almond Crisps
Author:
Megg (PopArtichoke)
Delightful, savory crisps chock full of almonds, raisins, and fresh rosemary. Yields approximately 48 crisps
Ingredients
1 cup all purpose flour
1 cup whole wheat flour
1 teaspoon baking soda
1 teaspoon salt
1 cup low fat buttermilk, shaken
3 tablespoons sugar
2 tablespoons honey
1 cup raisins
1 cup sliced, toasted almonds
3 tablespoons coarsely chopped fresh rosemary
Instructions
Preheat oven to 350º F. Lightly but throughly grease a loaf pan with vegetable oil.
In a medium bowl, mix together AP flour, whole wheat flour, baking soda, and salt until just combined.
Mix in the buttermilk, sugar, and honey and stir well.
Slowly add raisins, almonds, and rosemary, making sure they are evenly distributed through the batter so every crisp will have a bit of each!
Pour the batter into prepared loaf pan. Smooth top of the batter with a spatula. Place on the middle rack of preheated oven and bake for 40-45 minutes, until loaf is springy and has a nice, golden color.
Carefully remove loaf from pan and allow to cool on a cooling rack. After an hour or so, wrap the loaf in foil and let chill in the freezer until firm, at least 2 hours (the harder the loaf gets, the easier it will be to cut, so longer is better!).
Preheat oven to 300º F. Lightly but throughly grease a baking sheet with vegetable oil (I needed two baking sheets for the recipe, so it depends on the size of your sheet. You can also work in two batches).
When sufficiently firm, remove loaf from the freezer, place on cutting board, and use a serrated knife to slice the loaf into very thin slices (about ⅛" thick).
Arrange slices in one layer on the baking sheet(s) and bake for 15 minutes. Take the pan from the oven and flip the slices over, and return to bake for 15 minute more, or until nicely crisp but not burnt.
Allow the crisps to cool on a wire cooling rack. You can store the crisps in an airtight container for up to two weeks.