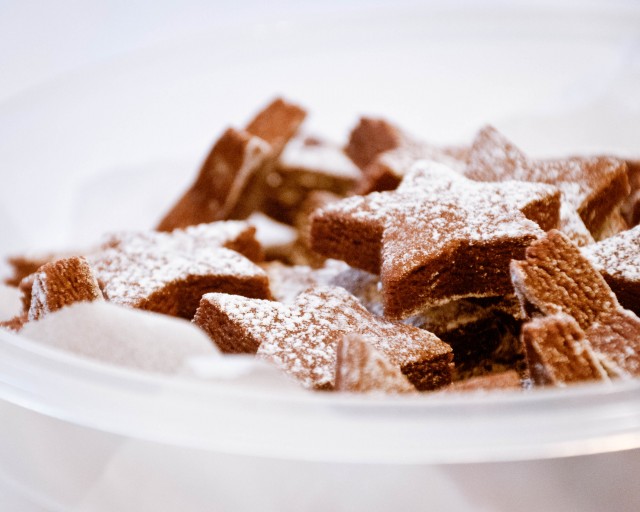 Christmas is just a few days away.
It's hectic, I know.  The shopping, the wrapping, the decorating… it's just overwhelming after a while!  And then there's the food…
This holiday season, I find myself in a teensy, tiny kitchen with almost no counter space.  Most of the cooking stuff I've acquired over the years is still in Chicago, and I'm also lacking in the cash department.  So when I started thinking about Christmas cookies, I needed something simple and affordable, but still impressive.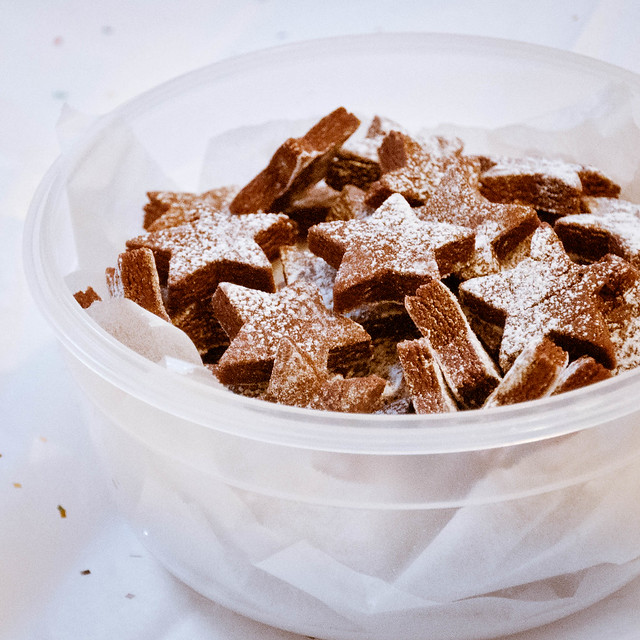 The solution to my problem came in the form of these delicious little cookies.  The recipe, adapted from Smitten Kitchen, claims that they taste like brownies, in cookie form.  Unsurprisingly, Deb was right.  It's amazing, really.
Plus, the ingredient list is so simple, you're likely to already have everything in your pantry.  This time of year, that's a welcome advantage!

The toughest part is rolling out the dough, but if I can manage it with my 1 sq. ft. of counter space, so can you.  I used a jar for a rolling pin.  If you have even a table or a bigger counter and a rolling pin, you are going to be a-okay!  I don't even have cookie cutters.  I used a small star cutter I use for bento-making.  The small size is actually nice, super cute, and makes it easier to use up every last bit of dough.
Plus, when it's all said and done, you'll have cookies that taste like brownies.  These make the perfect holiday gift, and your holiday party guests will love you.  Take a deep breath… you got this one!

Amazing Brownie Sugar Cookies
Adapted from Smitten Kitchen

Amazing Brownie Sugar Cookies
Ingredients
3 cups all-purpose flour (plus extra for dusting)
½ teaspoon baking powder
½ teaspoon sea salt
1 cup salted butter, softened
1½ cups sugar
2 large eggs
1 teaspoon vanilla extract
⅔ cup unsweetened cocoa powder
½ cup icing (powdered) sugar, optional
Instructions
Preheat oven to 350ºF. In a mixing bowl, combine flour, baking powder, and salt. In a separate large bowl (or, if using a stand mixer, use that bowl), whisk softened butter, sugar, eggs, vanilla, and cocoa. Slowly add the flour mix to the wet mix and blend just until combined and smooth.
Take the dough out of the bowl and shape into a ball. Wrap in plastic and refrigerate for an hour or more.
Prepare a large surface by sprinkling it lightly with flour. Turn out the chilled dough onto your rolling surface, sprinkle the dough with flour, and roll out. Once the dough is the desired thickness (1/8"-1/4" is ideal), grab your favourite cookie cutter and cut away. If possible, make a new ball with the scrap dough, roll out, and cut more cookies (you can also just bake the scraps for you to snack on!). Line up the cookies on a parchment-lined baking sheet. Bake for 8-11 minutes (less time for thinner cookies). The cookies should have firm edges but still be a bit soft in the center.
Allow the cookies to cool on a wire rack. If desired, sift icing sugar over the cookies for a nice, snowy look.
Happy holidays, everyone!
R3YED5QBDBV3