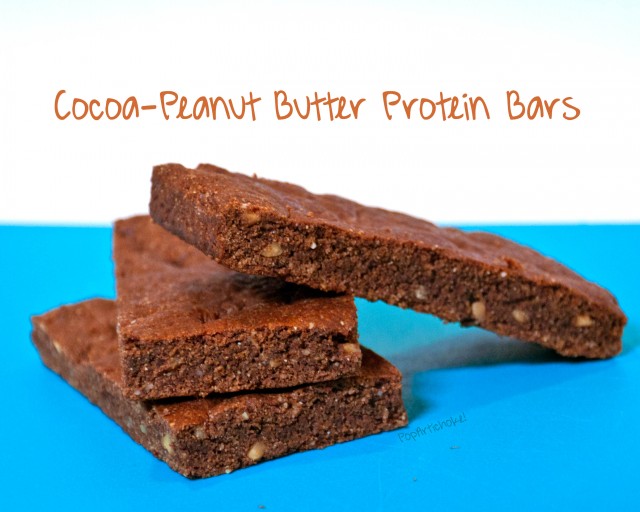 It's a new year, and that means the gyms get crowded and healthy food flies off the shelves at the grocery store.  After a good workout, the body needs protein, but protein bars can be rather expensive.  Plus, I've always found it difficult to find one that I actually like the taste of.  Fed up, I decided to just figure out how to make my own, and the results were even better than I'd expected!
The best part is, not only are these bars quick, easy, and genuiniely delicious, they're also (drumroll, please!): vegan, dairy-free, AND gluten-free!  And you won't miss any of those things.  Each bar has about 11g of protein, and while there is some fat, it's the healthy kind that comes from almonds and peanuts.  So Happy New Year's to you all… now start cookin'!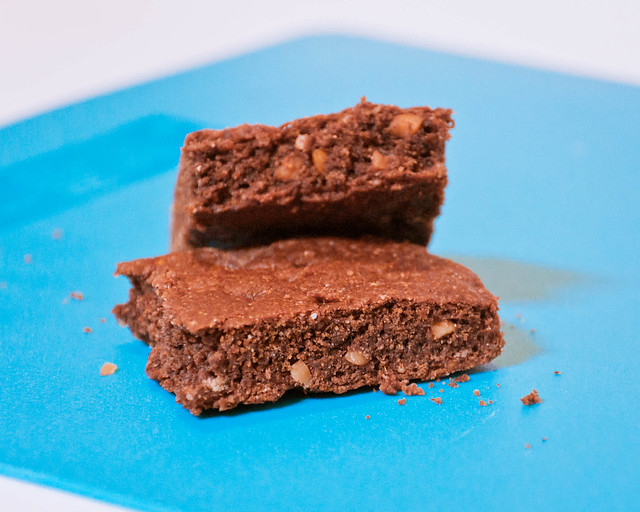 Cocoa-Peanut Butter Protein Bars (Vegan, Gluten-Free, Dairy-Free)
Prep time:
Cook time:
Total time:
Delicious, homemade protein bars that are vegan, gluten-free, and dairy-free (be sure to read notes below!)
Ingredients
¾ cup almond meal/flour
¾ cup oat flour*
2 scoops (1/4 cup) rice protein powder**
¼ cup unsweetened cocoa
¾ teaspoon baking soda
¾ teaspoon baking powder
1 teaspoon salt
½ teaspoon ground cinnamon
1 ¼ cup unsalted, unsweetened peanut butter (smooth or crunchy… up to you)
1 medium ripe banana, mashed (about ½ cup)
¼ cup organic sugar
¼ cup maple syrup***
1 ½ teaspoon vanilla extract
1 ½ tablespoons extra virgin olive oil
Instructions
Preheat oven to 350ºF. In a large bowl, combine almond meal, oat flour, protein powder, cocoa, baking soda, baking powder, salt, and cinnamon. Set aside.
In a separate large bowl, mix peanut butter, banana, sugar, maple syrup, vanilla, and olive oil. Gradually add dry ingredients to wet ingredients, and stir until well combined.
Prepare a shallow baking pan (a jelly roll pan is perfect) by lining it with parchment paper, leaving some extra paper around the edges. Spread the batter evenly throughout the pan (this should result in bars about 1.5 cm thick). Place the pan in the center of the preheated oven and bake for 25-30 minutes.
Take the pan out of the oven and allow to cool for about 15 minutes. Grab the edges of the parchment paper and carefully lift the entire piece off the pan and onto a cutting surface. Cut into 12 bars (if you have a store-bought protein bar lying around, you can use that as a guide!)
Store the bars in an airtight container, preferably in the fridge, for up to 10 days.
RECIPE NOTES:
*There is some controversy over the gluten-free status of oat flour.  In its pure form, yes, oat flour is gluten-free.  The problem is that some oat flour is made in places where it is subject to cross-contamination with wheat or other gluten products.  If you plan on serving this to someone with a gluten allergy, be sure the oat flour you are using says gluten-free on the label.
**I used Prairie Naturals Organic Rice Protein (Café Caramel flavour) – Feel free to use whatever protein powder you like, but if you'd like to keep the recipe vegan, dairy-free, and/or gluten-free, be sure the protein powder you use is appropriate.
***Feel free to substitute agave syrup.  You can also use honey, but honey is not vegan.