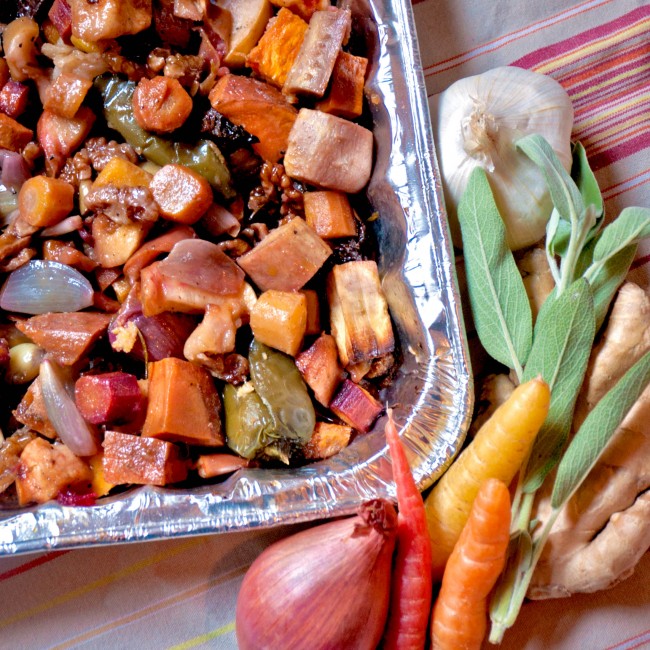 It's Thanksgiving Day here in Canada.
That means, for the first time ever, my American self gets to enjoy the traditional fall feast in mid-October.  We had our big dinner last night, and my new Canadian friends did a wonderful job at making my inaugural Canadian Thanksgiving a fun and delicious occasion!
For our contribution to the meal, Jesse came home with a big bag of root veggies, and we ended up creating this warm, savoury dish.  You can keep it vegetarian as written, or add grilled chicken sausage like we did. 
 Either way, it's the perfect addition to your Thanksgiving Day feast, no matter when you celebrate it!
Roasted Root Vegetables with Apples and Walnuts
Prep time:
Cook time:
Total time:
A hearty, healthy side dish full of warming fall flavours. A perfect addition to your Thanksgiving meal!
Ingredients
2 large sweet potatoes, cleaned (and peeled, if desired), cut to a 1" dice
6 parsnips, peeled and trimmed, cut into ¾" rounds
10-12 rainbow carrots, peeled and trimmed, cut into ¾" rounds
4-5 shallots, peeled, trimmed, and cut into quarters
6 cloves of garlic, peeled
1 dried chipotle pepper, diced
Zest of 1 lime
2 large jalapeño peppers
2 sprigs fresh rosemary
6-8 sprigs fresh sage
6 bay leaves
4 cinnamon sticks, chopped in half
¾ cup extra virgin olive oil
3 tablespoons light brown sugar
2 teaspoons smoked paprika
⅓ cup dark rum (optional)
5 baking apples (such as Spartan, Gala, or Cortland), cored, sliced into wedges, and drizzled with lime or lemon juice to prevent browning
1 cup raw walnut halves
Sea salt and freshly cracked black pepper, to taste
2 teaspoons smoked salt (optional)
Instructions
Preheat the oven to 400º F. Combine sweet potatoes, parsnips, carrots, shallots, garlic, chipotle pepper and lime zest and divide between 2 large roasting pans.
Scatter into each of the pans: 1 jalapeno, 1 sprig rosemary, 3-4 sprigs sage, 3 bay leaves, and 4 cinnamon stick halves.
Whisk together olive oil, brown sugar, smoked paprika, rum, 1 tablespoon black pepper, and 2 teaspoons salt. Drizzle over vegetables and stir to coat evenly.
Place the roasting pans on the middle rack of the preheated oven and bake for 30 minutes.
Remove one pan from the oven. Add half of the apples and walnuts to the pan, and stir to combine. Place pan back in the oven, and repeat with the second pan.
Return both pans to the oven and roast for another 30 - 45 minutes, or until vegetables are tender and lightly browned.
Remove pans from oven, stir vegetables, and add smoked salt, sea salt, and black pepper to taste. Serve immediately or cover with foil until ready to serve.

Happy Thanksgiving, everyone!