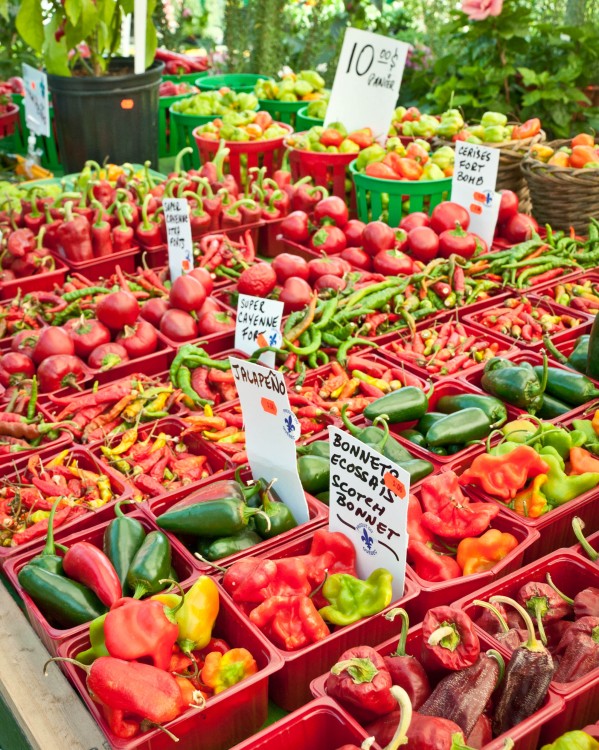 Living in Chicago, I always found it a struggle to get good produce.
So much of what I found at larger supermarkets was too expensive, if not downright gross.  If I did find nice stuff, it was even pricier!  I'd try to buy organic, but that wasn't always possible.  If I could even find local fare at the big stores, I'd check it out.  But more times than not, I had to guiltily step away and grab that way-too-ginormous, pesticide-y one from some other continent instead, since, well, I'm not made of money.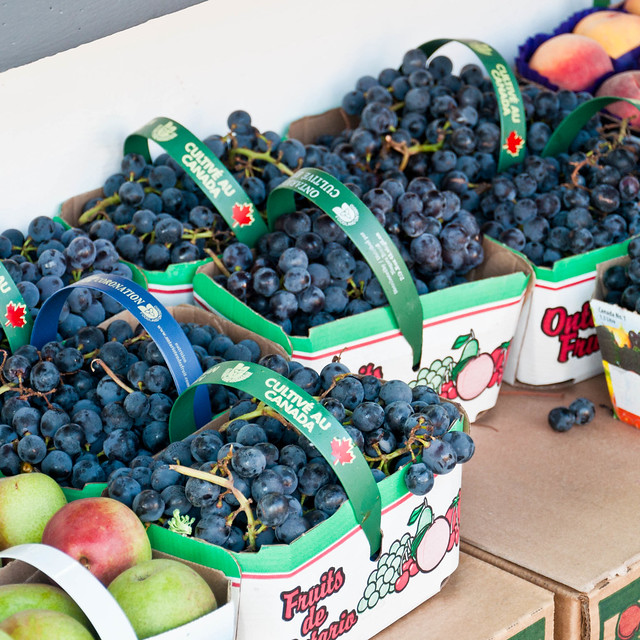 Then there were the farmers markets. I love farmers markets!  However, I used to work at 6am, including Saturdays or Sundays.  More times than not, my schedule prevented me from enjoying the local offerings.  If the only convenient market was on a day I worked, I was out of luck.  I loved it when I could make it, but even then, certain things were way more expensive than the conventional grocery store equivalents.
 The first time I visited Montreal, I couldn't believe how much gorgeous produce was just… everywhere!  And the first time I went to the Jean-Talon Market, I thought I had died and gone to harvest heaven.
Stand after stand of fresh, largely local fruits, veggies, cheese, maple syrup: presented there before my hungry eyes!
First of all, as a girl from the American Midwest, seeing more than corn, apples, and tomatoes at a farmers market is pretty damn exciting.  Second of all, as a particularly thrifty Midwestern gal, seeing the prices on this beautiful bounty was even better. The produce here is almost always less expensive than what I see in regular stores, and you can often get a ridiculous amount for what you pay. It is not uncommon to see entire crates full of peppers for just a few Canadian dollars. There are plenty of times when what I thought was the "per each" price was actually the "per giant bushel" price.  That's a mistake I don't mind making!

It's a pleasure to peruse the market, especially for food nerds like me.  The vendors are kind and helpful, and many will let you try a sample before you buy.  I always try to bring reusable bags, but if you forgot, you're not out of luck.  Unlike the farmers markets I was used to in Chicago, the vendors here almost always provide you with a plastic bag for your purchase.  Plus, Jean-Talon is open every day, so it's not a hassle to find time to go!
In my past market experiences, I'd sometimes find myself soaked in either rain or sweat by time I'd finished shopping.  Jean-Talon, however, has got you covered… literally. The whole thing is laid out beneath a huge structure, but the sides are still open so you can enjoy that fresh-air market feel.  It's also open year-round, though I've heard they put up walls during the winter.
Jean-Talon is supposedly the largest open-air market in North America, and I wouldn't doubt it.  It's certainly large enough to peruse for hours, if you're so inclined.  And it's not just fruits and veggies either.  Here you can find cheese, meat, fish, baked goods, eggs, flowers and more.
If looking at all that food makes you hungry, there's also plenty of vendors serving ready-to-eat food of all kinds.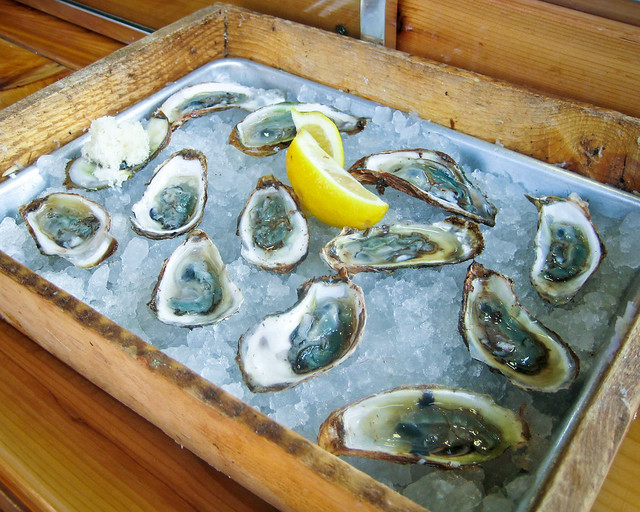 On a recent visit, we were lucky enough to find "buck-a-shuck" oysters at La Boite aux Huîtres.  Again, I grew up nowhere near an ocean, so local seafood is another thing I can't get enough of.  We happily slurped up our dollar oysters, complete with fresh horseradish and hot sauce.
The market is also surrounded by a variety of shops and restaurants.  One such shop is El Rey del Taco.  If you come in from the street, you'll be first presented with their selection of Latin groceries.  If you continue back, you'll find the restaurant.  You can also access this taco joint from the north side of the market, where they have outdoor seating.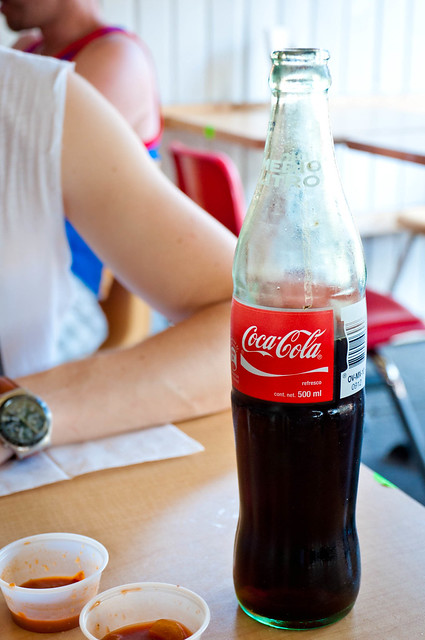 Chicago taught me that Coke from Mexico is a million times better than you're average Coca-Cola, and the difference is real sugar.  Jesse recently had the same realization, so we ordered up a nice cold bottle of the stuff.  This accompanied a plate of zesty pineapple and pork al pastor tacos.  A server gave us a free sample of a refreshing fruit smoothie too.  Oh yeah, and this little guy came by to make sure we were pleased with our meal.

After you've filled your bags with lots of groceries, and your stomach with tasty grub, you can go enjoy the surrounding Little Italy neighborhood, which has even more culinary fare to check out, and don't forget to grab an espresso!
If you're planning on visiting Jean-Talon, I've got a few suggestions for you:
Generally, you should expect a crowd.  I usually visit the market on weekends, and there's definitely a lot of people, though I've never had a problem getting to what I wanted.  It opens at 7am daily, but when I've visited around 9am on a weekday, many vendors were still setting up, and more still weren't even there yet, so keep that in mind.  I will say, though, that there still seems to be a lot available near closing time, even on weekends.  Of course your selection won't be quite as large if you go late, but you definitely won't be without options.
Vendors almost always provide bags, but it's still advisable to bring your own, even if just to put all the smaller bags into.  It is quite important to note that most of the stands accept cash only!  There are a couple ATMs on site, but the lines are usually long, and the fees are high. The ATMs are located near the main food court, where there are restrooms as well.  Most of the market is covered, but it's still open-air, so be sure to dress appropriately. And you're taking the subway, the market is just two blocks from Metro Jean-Talon, with lots of signs to help you get there.

Montreal has other famous markets that I hope to explore soon.  But until then, I'm more than happy with the multicultural, charming experience that Jean-Talon provides.  It's hard to resist its plentiful bounty and captivating atmosphere, especially when you can get so much without spending a lot.  I'm there nearly every week, and I'm thrilled to have such a gem nearby!
Go for the affordable local produce and artisan products, stay for the specialty shops and restaurants, and return again and again for the unique personality and the delightful experience.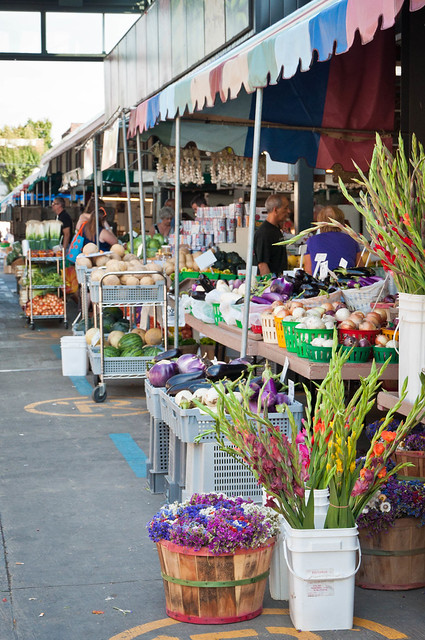 7070 Avenue Henri-Julien
Montreal, QC H2S 3S3
Corner of Henri-Julien & Jean-Talon…
it's the whole block, so it's hard to miss!
Hours:
Mon-Wed: 7am – 6pm
Thurs-Fri: 7am – 8pm
Sat: 7am – 6pm
Sun: 7am – 5pm
Open year-round
Jean-Talon Market
Montreal, QC H2S 3S3
El Rey del Taco
234 Rue Jean Talon Est
Montreal, QC H2R 1S7
Hours: 9am-9pm, daily