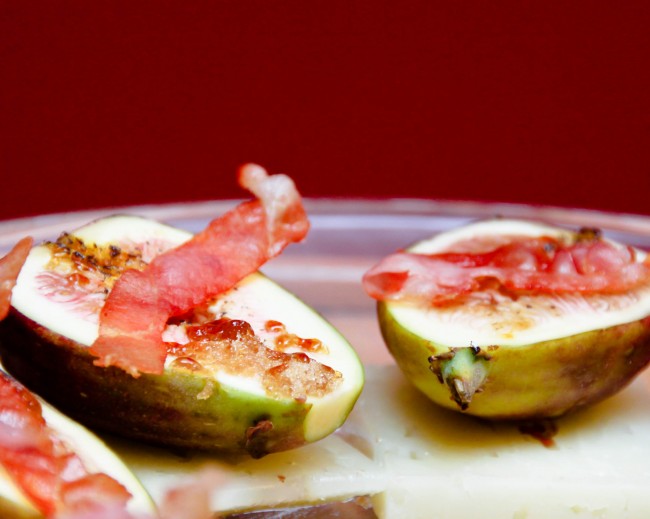 This month I was lucky enough to be chosen to participate in Foodbuzz's 24×24 event.  It's a fun, monthly project in which 24 bloggers are picked to make a meal, all in 24 hours. My talented little sister, who is heading off to grad school next week, is a fantastic opera singer, and I wanted to give her a farewell party like none other.  I decided to do a cocktail party, with each dish based on an opera.  I had my work cut out for me!  Luckily I had some help…. work work work!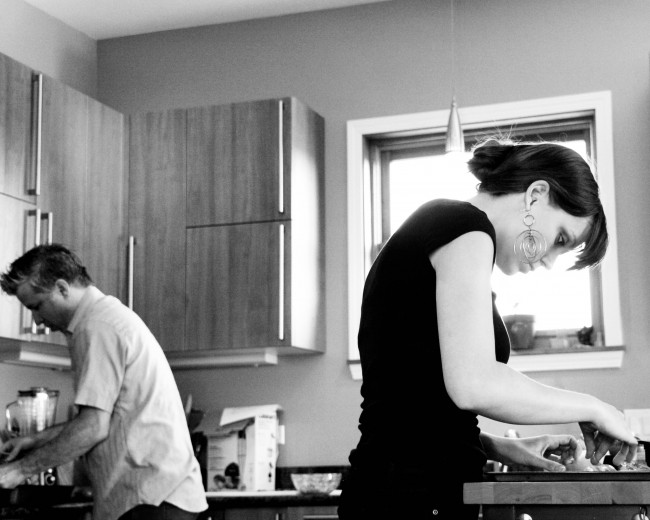 I printed up menus in the form of programs, like the ones you'd get at an opera performance, and my sister provided a playlist of "song pairings" for each dish.  Even the cocktails were inspired by operas or opera singers!  My sister and a few of her friends came over, (as well as my photographer friend who helped me out SO much by taking some great snapshots) and the party began!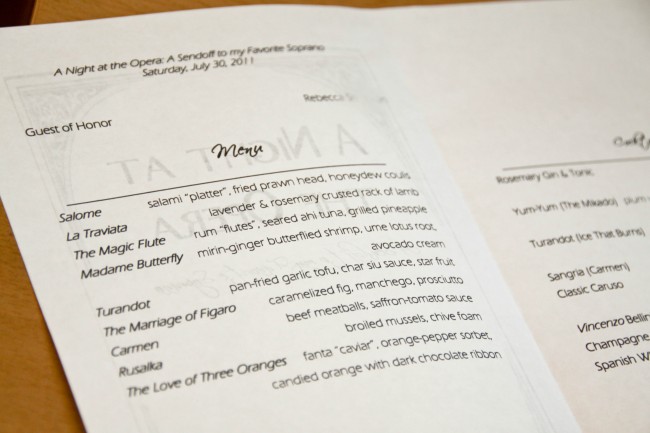 Salome – Strauss
Song pairing:Ah! Ich habe deinen Mund gekusst, Jochannan!
At the end of this biblical story of love and vengeance, Salome demands the head of John the Baptist on a silver platter.  Here we have crispy fried shrimp heads on a platter of salami (get it? Salami… Salome…), decorated with a honeydew melon coulis.  If you ignore the little beady eyes, they're actually quite tasty.. kind of like a really crunchy potato chip.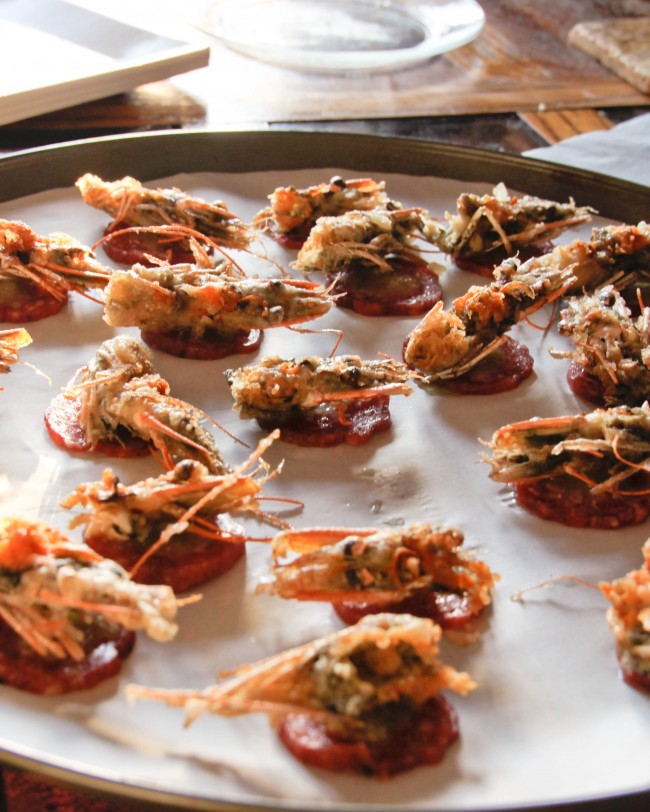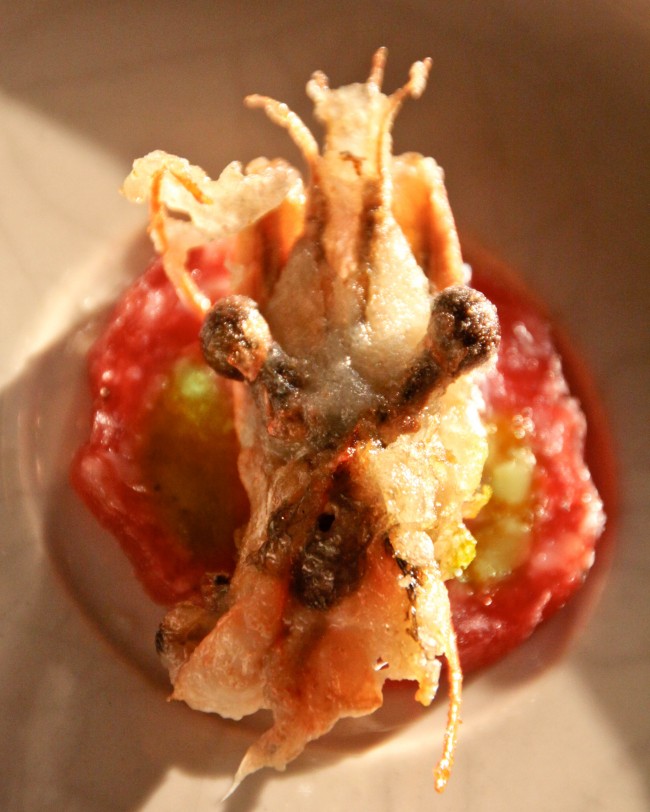 La Traviata – Verdi
Song pairing: Libiamo ne' lieti calici
Violetta Valéry, a Parisian courtesan, struggles with love, her squalid past, and her lack of a future.  I wanted to make something French, with a touch of violet, so I made a lavender-crusted rack of lamb.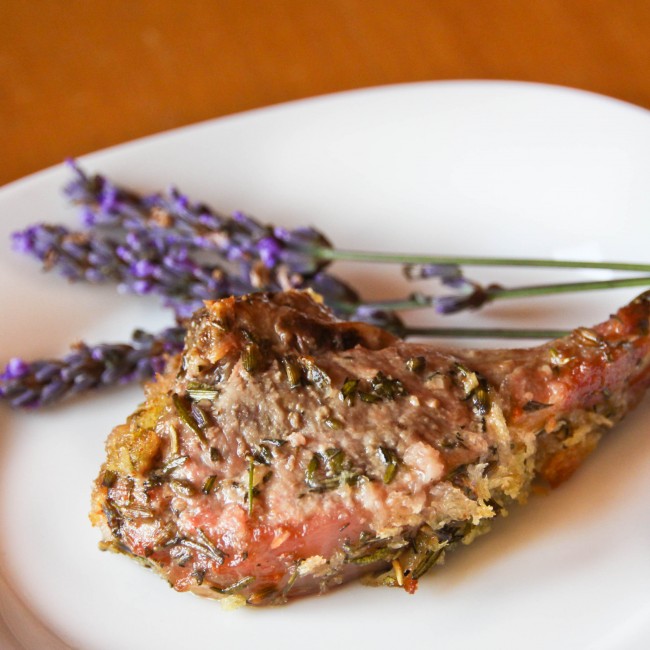 For the lamb, I made a cocktail that I've been perfecting in the last couple weeks.  It uses a rosemary syrup, which you can make by cooking a simple syrup (1 part sugar to 1 part water) with a few sprigs of rosemary thrown in.
La Traviata Rosemary Gin and Tonic
2-3 oz gin
½ oz triple sec
¾ oz rosemary syrup
Tonic water
Lime wedge
Squeeze lime into glass.  Add gin, triple sec, syrup, and top with tonic water.  Stir with ice.
The Magic Flute – Mozart
Song pairing: Der Hölle Rache kocht in meinem Herzen
In this classic, Prince Tamino is in search of the woman of his dreams, and the Queen of the Night offers up her daughter if Tamino can rescue her.  Her attendants give him a magic flute to assist him on this quest.  Here I made a "flute" from rum sheets made with agar-agar, with seared soy-ginger ahi tuna and grilled pineapple inside.  I used a straw to cut little holes in the sheets to make them look more flute-like.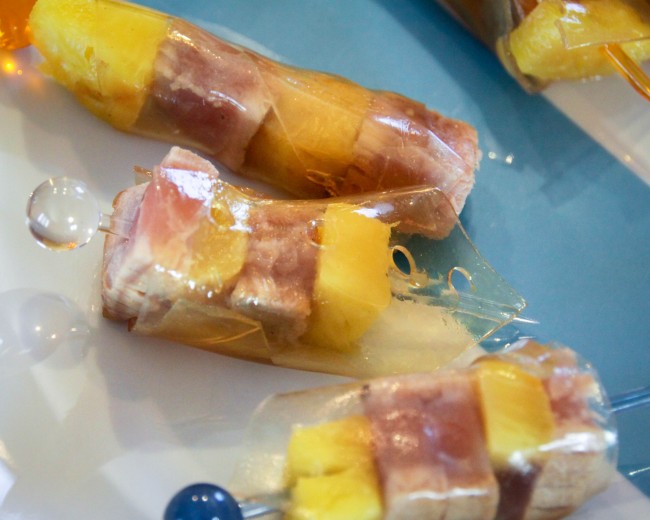 Madama Butterfly – Puccini
Song pairing: Un Bel dì Vedremo
This tragic story tells of a doomed love between American naval officer Pinkerton and young geisha, Cio-Cio-San (Butterfly).  This dish depicts the name literally, with butterflied shrimp decorated with wing-like lotus root, made pink from ume plum vinegar… making shrimp butterflies!  For the lotus root, I used the same pickling liquid that I used for radishes last year.  I finished with avocado cream (simply avocado, half and half, and salt) to add color and a buttery sweetness.
With this I served a drink named after the character my sister played in The Mikado, another opera that takes place in Japan: Yum-Yum.  It featured sake, plum wine, and club soda, with a dried, salted plum that infused the drink with its deep, salty-sweet flavor.
Recipe: Ginger-Mirin Shrimp
Song Pairing: Tu che di gel sei cinta
Any suitor wishing to marry the Chinese princess Turandot must first answer three riddles – but if he answers incorrectly, he will die!  This dish is inspired by the riddles.  1. What is born each night and dies each dawn?  Hope (represented here by star fruit).  2. What flickers red and warm like a flame, yet is not fire? Blood (the deep red of char siu sauce, drizzled over ginger-garlic tofu).  3. What is like ice but burns?  Turandot!  For this riddle I made a icy yet spicy hot cocktail.  It features a hot ginger-Szechuan pepper syrup, mandarin juice, and mandarin vodka, all blended with ice.  The shot glass is rimmed with a 5-spice sugar.
Ginger-Szechuan Pepper Syrup
1 cup water
1 cup sugar
A 1" piece of fresh ginger, sliced
1 tablespoon ground Szechuan pepper
2-3 Thai hot chiles, cut in half
Combine all ingredients in a saucepan and bring to a boil over medium-high heat, stirring until sugar dissolves, 3-4 minutes.  Remove from heat. Let cool, removing the chiles early if you want a less spicy syrup.  Strain and use carefully!  You can keep the syrup in the refrigerator for up to 3 weeks.
The Marriage of Figaro– Mozart
Song pairing: Se vuol ballare
This one also is a play off the name, Figaro – figs!  The satirical opera is a continuation of The Barber of Seville, taking place in Spain, so I used that as inspiration as well.  The result is a black fig, carmalized with brown sugar (I got to use my new brulee torch for this… fun with fire!), with Spanish manchego cheese and crispy cured ham.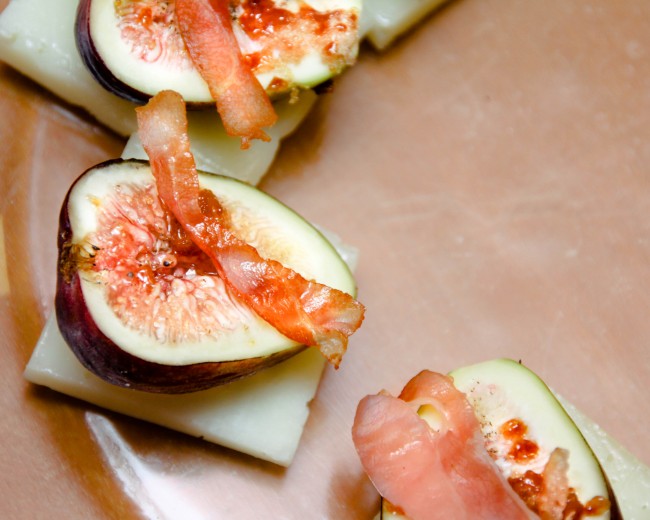 Carmen – Bizet
Song pairing: Habanera
This story of the fiery gypsy seductress Carmen also takes place in Spain.  For this dish I made beef meatballs in a spicy saffron tomato sauce, and, what else, sangria!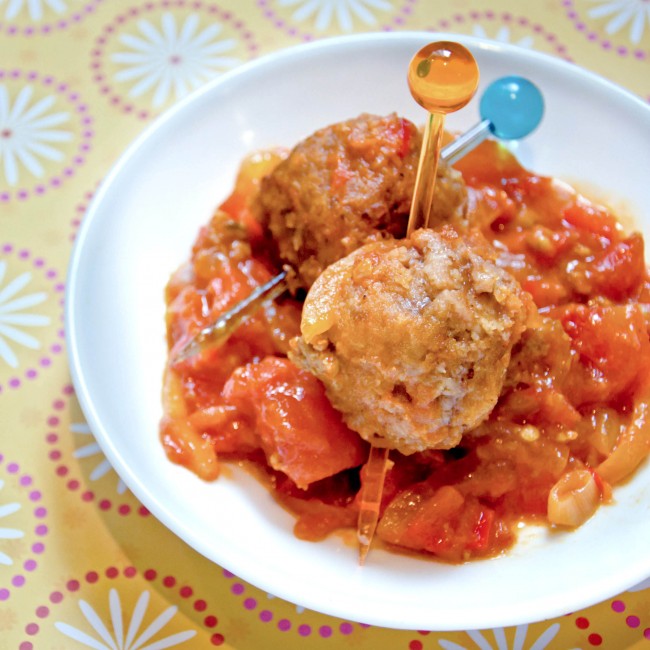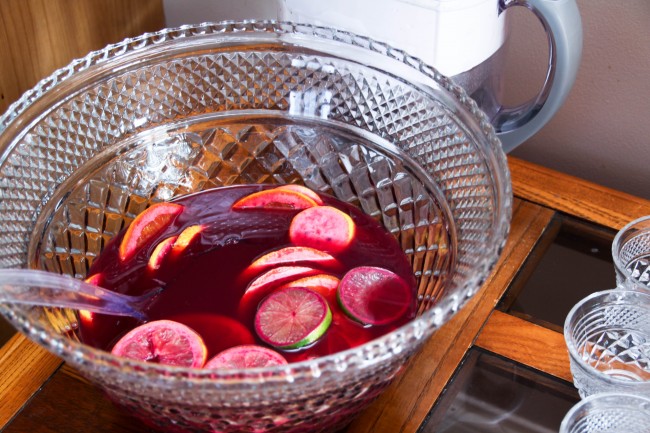 Rusalka – Dvořák
Song pairing: Lieblicher Mond
The story of Rusalka is basically that of The Little Mermaid, except, of course, a lot darker.  I wanted to do something reminiscent of water, so I chose mussels, broiled with parsley and garlic butter.  Better yet, I wanted something to look like sea foam.  I recently got myself a molecular gastronomy kit (and boy oh boy is it amazing!) so I made a chive foam to go with the mussels.
Recipe: Broiled Mussels with Chive Foam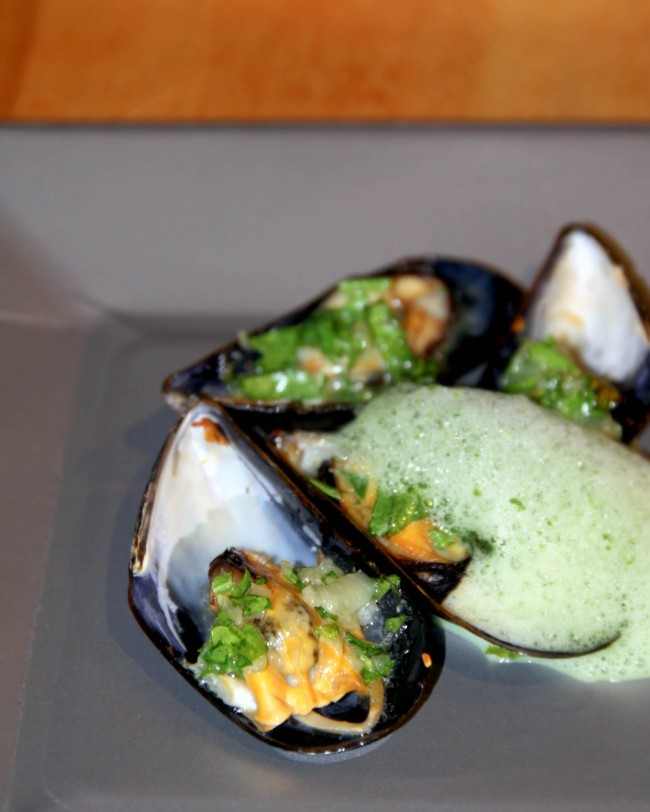 The Love for Three Oranges – Prokofiev
Song pairing: E…Truffaldino…Truffaldino
A prince is given three oranges, each with a fairy inside, in this odd modern opera, but seeing as the name deals directly with food, it was a lot of fun to conceptualize this dish!  First is an orange-pepper sorbet, served in a mandarin shell.  Second, candied orange slices with a dark chocolate ribbon (in the opera, a magic ribbon is used to distract a cook that guards the oranges).  For the third orange dish, I used my new kit again, using a really fun process called spherification.  Sodium alginate is mixed with a liquid (here I used orange soda) and dripped carefully into a calcium bath.  This forms little bubbles with the soda inside!  They look just like caviar and taste great.  I let everyone watch me make them and let the guests try their hand at making their own.
Recipe: Candied Orange Slices
 I finished with a surprise, a homemade opera cake!  We were all quite full at this point, but had to enjoy the cake… it was at this point I told my sister the tagline for this post I'd been thinking of all week: "It ain't over till the singing lady's fat."  I said it was too corny to use in the post, but everyone seemed to agree that I just had to mention it, so there you go.

With dessert we enjoyed Bellinis (although the drink was named for the Italian painter, here we drank them in honor of opera composer Vincenzo Bellini) and Carusos.  Although the "Caruso" cocktail you'll usually see is gin, dry vermouth, and creme de menthe (which sounds disgusting to me), I found an article talking about the history of the drink, from which I found a brandy-based recipe.
The (Old School) Caruso Cocktail (adapted from the Wall Street Journal)
1 ½ oz brandy
½ oz sweet vermouth
¼ oz Benedictine herb liquour
2 dashes Angostura bitters
1 maraschino cherry
Stir with ice and strain into a chilled glass.  Garnish with cherry.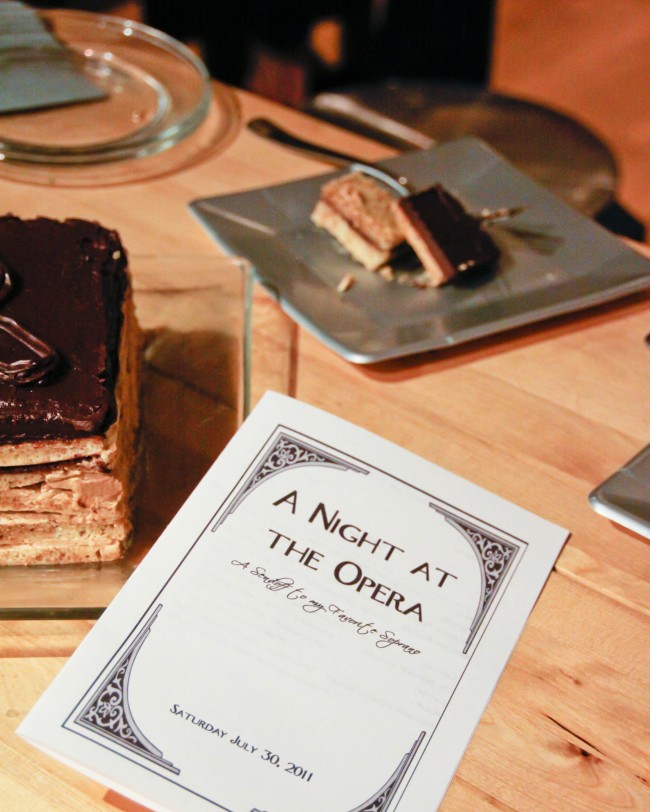 All in all the party was a success, and it was so much fun to make these dishes and share them with my sister and her friends.  A big thank you to Steve for helping me with the cooking, bartending, and cleaning, to Bazz for helping with the photography, and to Foodbuzz for the opportunity!
And of course, the best of luck to my beautiful, talented, smart, and amazing sister Becky.  I'm going to miss you so much while you're away at school, but I'm so proud of you and so happy that you're pursuing your dreams.  Brava!
Photos by Uthman Shabazz and Megg of PopArtichoke.