Some people get very excited about all things pork.  I'm not one of them.  Give me a juicy, tender pork chop, though, and I'm one happy girl!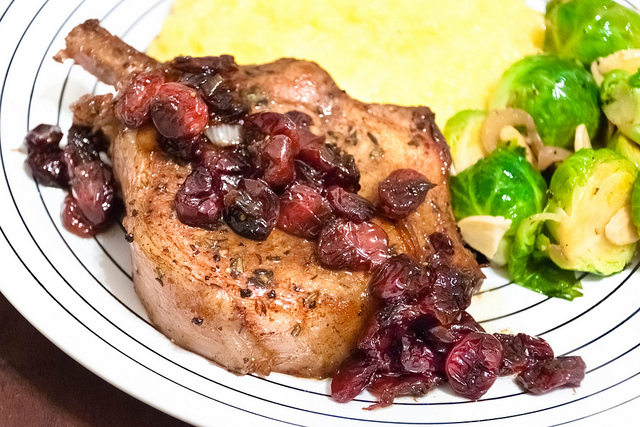 I love to marinate them in balsamic vinegar, as the sweet, rich flavor really enhances the meat, but sometimes I like the up the decadence factor another notch.  And if I can do so with a sauce that has a rhyming name, well, then what's not to like?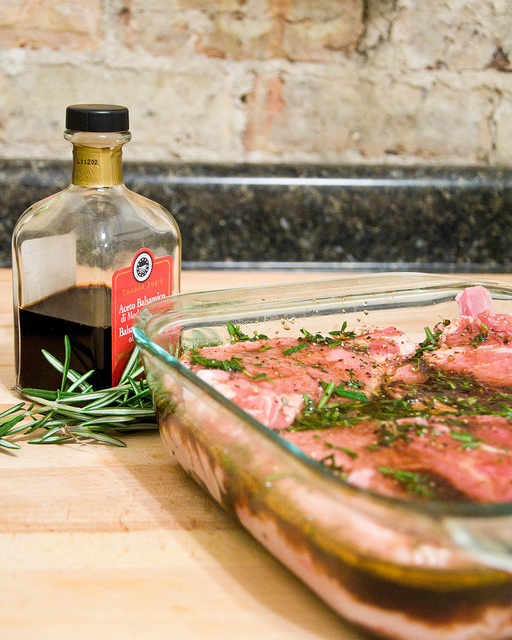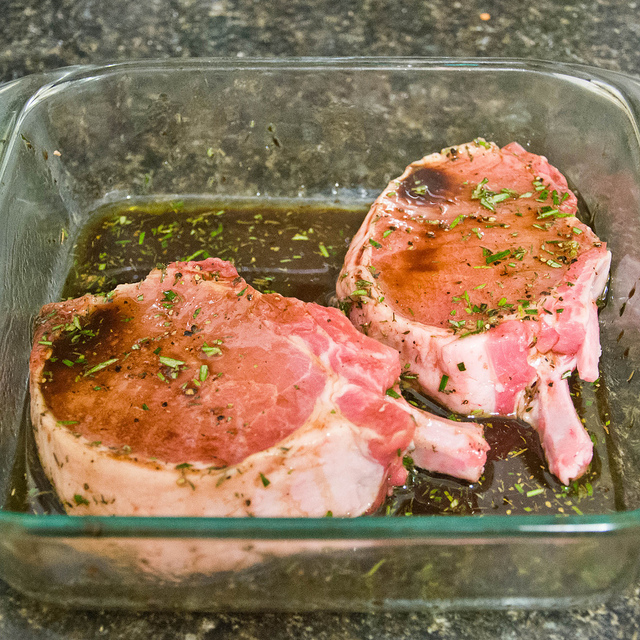 I served up these chops with creamy polenta and balsamic Brussels sprouts (recipe for the sprouts coming soon!)  Oh, and by the way, get bone-in pork chops if you can.  They'll end up way more flavorful and juicy!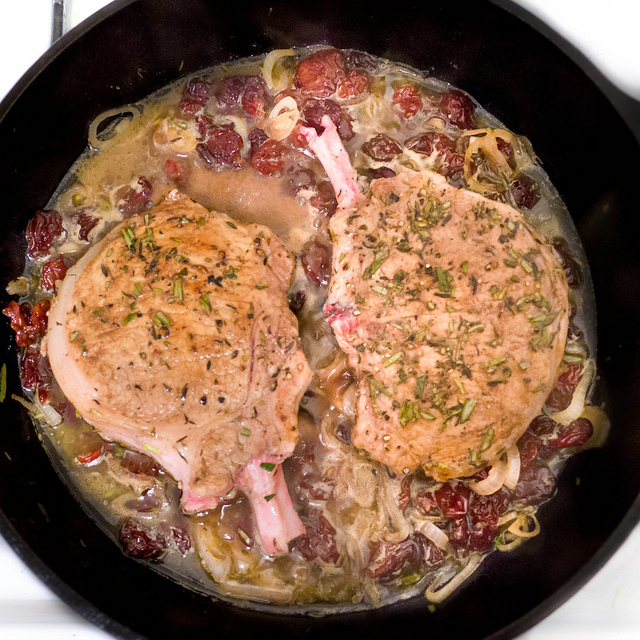 Balsamic Pork Chops with Cherry Sherry Sauce
Balsamic Pork Chops with Cherry Sherry Sauce Author:
Megg (PopArtichoke)
Tender, juicy, balsamic pork chops topped with a rich and flavorful cherry-sherry sauce.
Ingredients
4 bone-in, frenched pork chops, about an inch thick each
⅓ cup balsamic vinegar
1 sprig rosemary (about 5" long), de-stemmed and coarsely chopped
1 ½ teaspoon dried thyme leaves
1 clove garlic, finely minced
¾ teaspoon ground black pepper
½ teaspoon salt
⅓ cup extra virgin olive oil
3 tablespoons unsalted butter, divided
2 large shallots, thinly sliced
⅔ cup dry sherry
⅔ cup dried tart cherries
Instructions
Place the pork chops in a flat, non-reactive dish. In a small bowl, blend the balsamic vinegar, rosemary, thyme, garlic, pepper and salt. Add olive oil while whisking constantly. Pour the balsamic dressing over the pork chops, turning them to coat. Let marinate for 15-20 minutes.
In a large, heavy skillet, melt 2 tablespoons of butter over medium heat. Remove pork chops from marinade, shaking off excess liquid and reserving the marinade for the sauce. Place the pork chops in the skillet without over-crowding, working in batches if needed.
Sear the pork chops for about 3 minutes a side, or until nicely browned. Transfer the pork chops to a clean plate and set aside.
Add shallots to skillet and sauté, stirring occasionally, until soft. Remove the skillet from the heat (if using cast iron or any pan that stays very hot, let rest for a minute before adding sherry to avoid flare ups). Slowly add the sherry, stirring to scrape up the browned bits. Return heat to medium low and stir in cherries and reserved balsamic marinade. Increase heat and bring the sauce to a gentle boil, stirring frequently.
Return the pork chops to the skillet and cook over medium-high heat for 2-3 minutes a side, or until pork is cooked through. When the pork is done, transfer to a clean plate and tent with foil. Continue to cook sauce, stirring, until slightly thickened and cherries are soft. Season to taste with salt and pepper.
Divide pork chops onto serving plates. Spoon sauce over the chops and serve immediately.