The best way to plan for Chicago weather is to plan for just about anything.  Last week it was 45ºF, which is incredible for this time of year.  On Thursday, the first real snowfall of the season came along, and now, well, it's just freezing.  I hope to be on another continent by this time next year, but in the meantime, I'll throw on an extra sweater and start makin' some comfort food.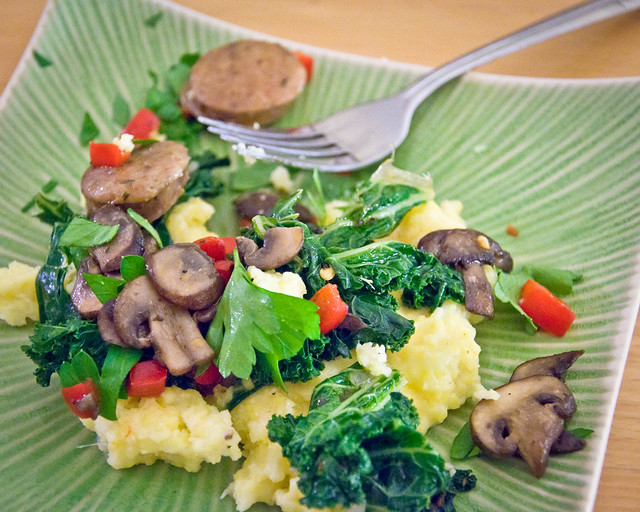 Polenta is one of my favorite foods. It's versatile, hearty, easy-to-prepare, and plays well with others. Though I'll eat it any time of year, it's just perfect for the winter months. Add some mushrooms, chicken sausage, and kale and oh baby, you've got yourself some tasty comfort!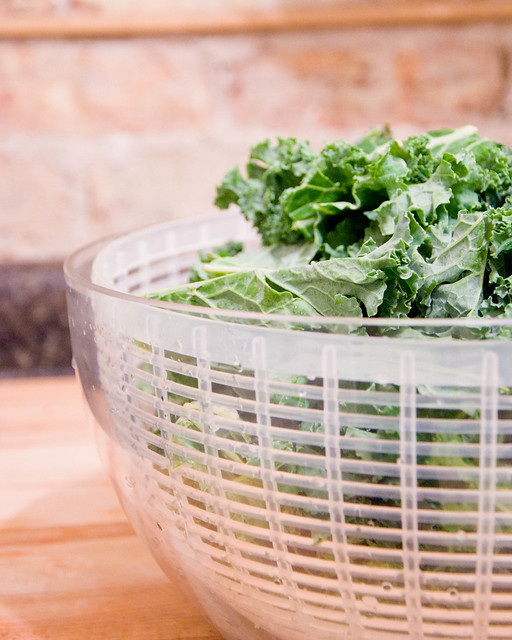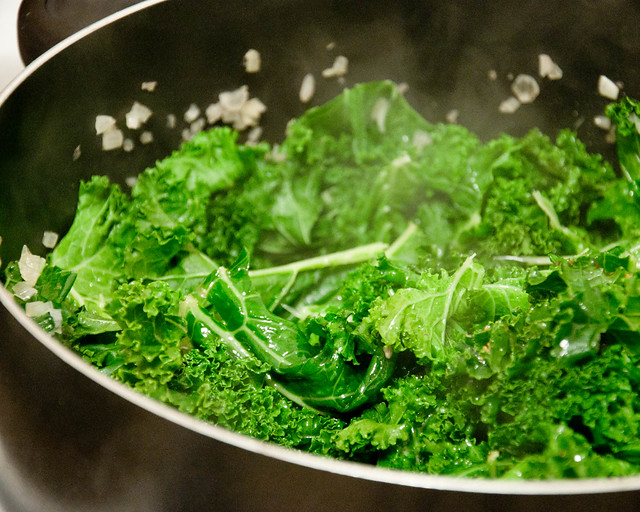 Rustic and simple, this meal is easy enough for a weeknight dinner, but with the right presentation it's right at home on a dinner party menu. You can replace the Italian chicken sausage with pork sausage, of course, but I was impressed with the flavor of the chicken and certainly didn't miss the extra grease or fat that pork sausage has.
| | | |
| --- | --- | --- |
| Italian Polenta with Spicy Chicken Sausage, Mushrooms and Kale | | |
Author:
Hearty, wholesome comfort food with lots of flavor and color.
Ingredients
FOR THE SAUSAGE:
4 links of spicy Italian chicken sausage, sliced into rounds about ½ inch thick
6 oz cremini mushrooms, washed and sliced
cup diced red pepper
Extra virgin olive oil
FOR THE KALE:
1 bunch curly kale, washed and dried
Extra virgin olive oil
1 small shallot, minced
1 clove garlic, minced
1 ½ teaspoons dried oregano
teaspoon dried red pepper flakes
Salt and freshly ground black pepper, to taste
FOR THE POLENTA:
1 cup uncooked polenta
3 cups water
4 tablespoons (half a stick) unsalted butter
cup grated parmesan cheese
Salt to taste
Italian parsley (to garnish)
Instructions
FOR THE SAUSAGE: Heat a large, heavy pan and add sliced sausage. Cook over medium high heat for about 5-6 minutes, or until one side is lightly browned. Flip the slices and add red pepper and mushrooms to the pan. Drizzle with a tablespoon of olive oil and stir. Cook until sausage is cooked through, about 5-6 minutes more, and vegetables are softened but not mushy. Season with salt and pepper to taste.
FOR THE KALE: Remove the ribs and woody stems from the kale, and coarsely chop. Heat a tablespoon or two of olive oil in a large pot over medium heat. Add shallots and garlic and cook until softened and fragrant, about 3-5 minutes. Add the kale and stir well. Add more olive oil as needed. Season with oregano, red pepper flakes, salt and pepper. Add a couple tablespoons of water to the pot, cover and cook, stirring occasionally, until kale is wilted but not mushy. Remove from heat.
FOR THE POLENTA: Add 3 cups of water and a pinch of salt to a medium saucepan and bring to a boil. Whisk in polenta and reduce heat. Cook, whisking frequently, for about 6-8 minutes, or until polenta starts to thicken. Remove from heat, stir in butter, and let stand for a few minutes. Stir in Parmesan cheese. Taste and add salt, if needed.
To plate the dish: spoon polenta onto a plate or shallow bowl. Top with kale and sausage, and garnish with parsley. Serve immediately and enjoy the comfort!