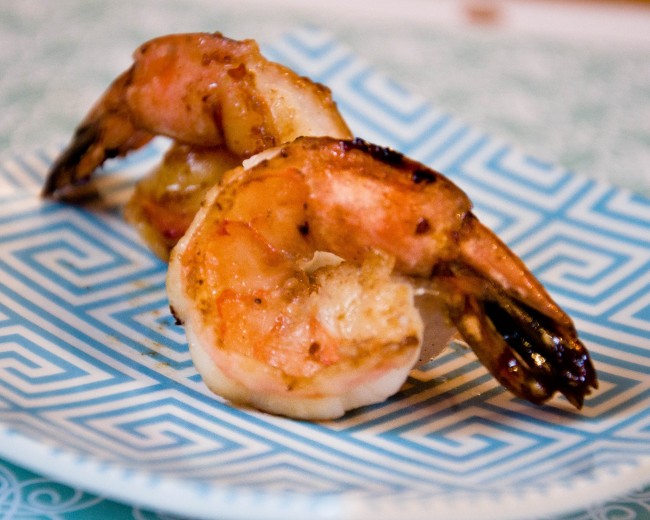 Here's another recipe I came up with for my opera-themed party for my sister.  I made these delicious shrimp for the "Madame Butterfly" dish.  Although I butterfly-cut the shrimp, they did not flatten as I expected them too (I've read since that sometimes you need to pound them a bit to keep them from curling).  Still, for the opera dish, I was able to use their curl to nicely form "butterflies" using lotus root, while the flat side made them sit up perfectly.
I briefly marinated the shrimp in a ginger-mirin marinade before pan-frying them.  The caramelization from the mirin gave the shrimp a beautiful reddish-orange color.  Still, be sure to do a thorough job of shaking off the marinade before cooking the shrimp… too much mirin, and the marinade will burn!
Author:
Tantalizing flavors and colors emerge in this easy-to-make shrimp dish!
Ingredients
3/4 cups mirin
1 1/2″ piece fresh ginger, minced
1/2 teaspoon salt
1/4 teaspoon white pepper
20 large shrimp or prawns, shells removed but tails left on, deveined, butterfly-cut
Grapeseed oil for pan-frying
Instructions
Mix mirin, ginger, salt, and white pepper in a large bowl. Toss the shrimp in the marinade; allow to marinate for 15 minutes.
Heat 2 tablespoons of grapeseed oil in a large frying pan over medium-low heat. Remove shrimp from marinade, thoroughly shaking off excess. Working in batches to prevent overcrowding, add shrimp to the pan and cook until bottom sides are lightly browned, about 2 minutes. Flip and cook until shrimp are opaque in the center, about 2-3 minutes more.
Transfer to paper-towel lined plate and cover with foil to keep warm as you repeat step 2 with the remaining shrimp. If the pan gets coated in browned bits, remove pan from heat and wipe down carefully with a paper towel between batches. Shrimp can be served warm or chilled.
For the "Madame Butterfly" dish, I used lotus root slices that were quick-pickled in ume vinegar, using the same recipe I used for radishes HERE.  There was also a dollop of avocado cream, made simply with avocado, sour cream, and salt.