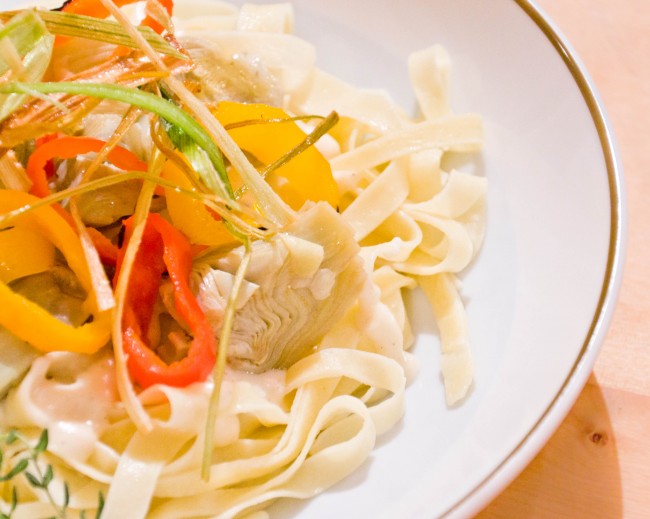 Last week I showed you how to easily make fresh egg fettuccine without even needing a pasta machine, but this week I'm going to offer a way to eat it, which is even easier.  Well, you have to cook it first, but if you're reading a recipe post on a food blog, you really should have seen that coming.
The shape of fettuccine noodles is perfect for heavier sauces, so its classic partner-in-crime is a creamy cheese sauce.  Here, I paired the pasta with a decadent fontina cheese sauce, complete with hints of thyme and sage to really up the "divine" factor.  But of course, between my insatiable craving of color and my willingness to at least at something a little healthy to this delicious cheese-centric dish, I had to get some veggies in there.  I'm rather fond of artichokes (could you tell?), sweet peppers are always a treat, and frizzled leeks are just awesome, not to mention delectable… and hey, I'd made myself a pretty nice meal.  And then comes the eating part, which like I said before, is ridiculously simple.
Hungry? Alright, here's how you make it:
Fettuccine with Artichokes, Peppers, Fontina Cheese Sauce & Frizzled Leeks
Number of servings (yield): 6
Ingredients
FOR CHEESE SAUCE:
3 tablespoons unsalted butter
3 tablespoons flour
4 sage leaves
1 sprig thyme
3/4 cup whole milk
3/4 cup heavy cream
1 cup finely shredded fontina cheese
Ground white pepper and salt, to taste
1 cup artichoke hearts, halved
8-10 sweet baby peppers, stemmed and seeded
1 large leek, cleaned well and julienned
2 tablespoons flour
1/4 cup vegetable oil
1 lb fresh fettuccine, or 1/2 pound dry, cooked
Olive oil
Salt and pepper, to taste
Instructions
To make the cheese sauce: In a large saucepan, heat butter over medium heat, until melted. Stir in flour and add the sage and thyme. Stir until the flour and butter are combined and very lightly browned, 1-2 minutes.
Slowly add the milk and cream to the pot. Whisk for 4-5 minutes, or until the sauce has thickened. Stir in the cheese and continue to mix until the sauce is blended and smooth. Season with salt and white pepper to taste.
Preheat a grill on medium heat. Place the sweet peppers on the grate and grill, turning occasionally, until softened and lightly charred, about 6 minutes. Transfer the peppers to a plate and allow to cool. Slice peppers into rings about 1/2″ thick. Put the pepper rings in a large bowl and add the artichokes. Stir with a little bit of olive oil, seasoning with salt and pepper to taste.
Heat 1/4 cup vegetable oil in a heavy pan over high heat. Dredge the julienned leeks in the flour. Fry the leeks in batches, for about 30-60 seconds per batch, or until the leeks are lightly browned and crispy. Transfer finished batches to a plate lined in paper towels to drain.
Toss the cooked pasta in a tablespoon or two of olive oil. Divide the pasta among plates or bowls, top each serving with cheese sauce and vegetables. Add a small handful of frizzled leeks to the top and serve immediately.
Copyright © PopArtichoke 2011.