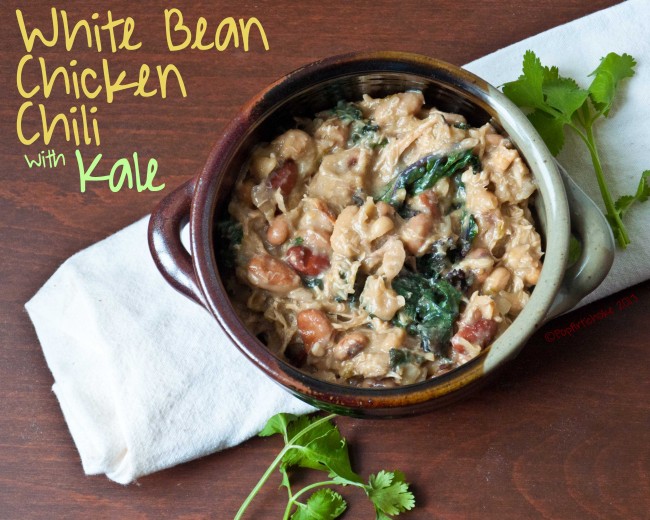 I'll admit, I'm envious of those of you in warmer climates!  Here in Quebec, it's still a winter wonderland.  I find that this cold weather just begs for hearty, warming meals; the perfect distraction until winter finally acquiesces to springtime's welcome thaw!
Not only is this a healthier chili than those beefy varieties, but it's also a great way to use up extra chicken. We frequently buy whole, roasted birds from a local Portugese chicken shop. I made chicken broth with the bones and used some of the meat for this chili. So whether you're looking to use up leftovers in a most impressive way, or starting from scratch for the sake of a hearty dish, I hope you enjoy this easy and flavourful recipe!





White Bean Chicken Chili with Kale
Author:
Megg S (PopArtichoke)
Prep time:
Cook time:
Total time:
Ingredients
5 tablespoons extra virgin olive oil, divided
3 cloves garlic, minced
1" piece of ginger, peeled and minced
2-3 jalapeño peppers, finely chopped
1 small red or yellow onion, diced
2 cans white beans, drained and rinsed (or use 1 can white beans and 1 can bean medley, as I did)
1.5 cups salsa verde
¾ cup chicken broth
2 teaspoons ground cumin
½ teaspoon ground cayenne pepper (optional)
½ teaspoon ground cinnamon
1 teaspoon dried oregano
½ tablespoon sea salt
2 teaspoon freshly ground black pepper
2 cups cooked chicken, shredded
1 bunch kale, washed, stemmed, and coarsely chopped
For garnish:
Diced avocado
Chopped fresh cilantro
Queso fresco or feta cheese
Chopped scallions
Instructions
Heat 3 tablespoons of olive oil in a large pot over medium-high heat. Once hot, add garlic, ginger, jalapeño, and onion and saute until lightly browned and fragrant, about 3 minutes.
Stir in beans, salsa verde, and chicken broth. Reduce heat to low, then mix in cumin, cayenne, cinnamon, oregano, salt, and pepper. Stir in shredded chicken.
Cover and let simmer over very low heat for 45 min - 1 hr. (Chili can be kept at a low heat for a few hours if you have the time - this way, the flavours really mingle and the end result is even tastier!)
Before serving the chili, heat 2 tablespoons olive oil over medium heat in a large frying or saute pan. Once the oil is hot, add kale and a teaspoon of water to the pan. Saute until kale begins to wilt, about 2 minutes. Season with salt and pepper to taste.
Mix kale into chili and divide into serving bowls. (Note: I've found it's best to keep the kale separate from the chili and mix in as needed. This way, if you have leftovers, the kale won't get super soggy in the chili. This is just a matter of taste and texture, so it's up to you.)
Garnish as desired. I like to add avocado, cilantro, feta, scallions, and sometimes hot sauce. Go ahead and be creative with it!