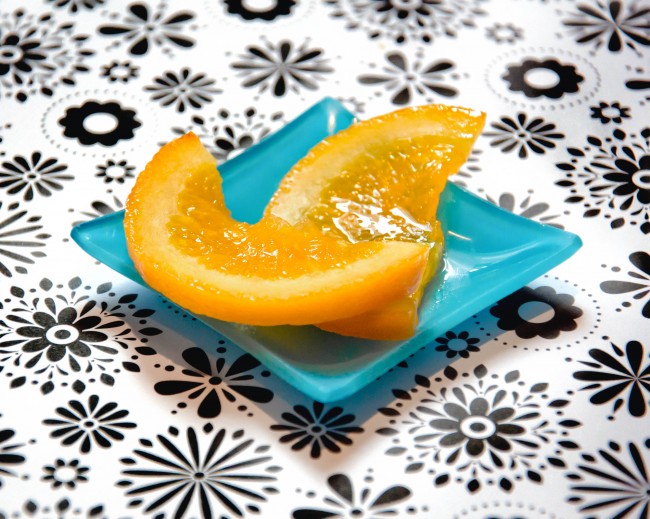 Hi guys!  It's been a bit since I've posted but I have a great reason why:  I'm preparing a very special cocktail party for a very special someone!
I don't want to give too much away, but check back here on Sunday to find out all about it!  It's a huge undertaking for me (I can't remember the last time I've had just a casual party, and I'm pulling out all the stop for this one!).  My sister is moving away in just a few days to go to grad school, but I'm not letting her leave without one extravagant last hurrah!  Oooooh- I want to tell you all about it, but like I said, I'm going to wait until it's said and done.  Still, I don't see why I shouldn't show you some of the things I've been working on for this bittersweet celebration!
Speaking of bittersweet, I made these candied orange slices as part of a dessert.  They're super easy to make, and the flavor is a lovely blend of sweet and tart.  The orange slices are cooked in a simple syrup, resulting in these transluscent beauties and some orange syrup that can be used for all sorts of things.  You can serve these oranges on their own, dipped in chocolate, atop cakes or ice cream… just about anything you want, really!

Author:
Megg - PopArtichoke
Prep time:
Cook time:
Total time:
Bursting with color and flavor, these oranges are a versatile, easy-to-make treat!
Ingredients
3 cups water
1½ cups sugar
2 navel oranges, halved and sliced lengthwise (slices about ¼" thick)
Instructions
In a large, heavy saucepan, bring water and sugar to a boil. Add orange slices and cook over medium-high heat until transluscent, turning occasionally, for about 25 minutes.
Reduce heat to medium-low and simmer for about 15 minutes more or until syrup is thick and orange slices are soft with a glassy appearance, but still intact.
Use a slotted spoon to remove the oranges from the syrup and transfer to a cooling rack placed over a baking sheet (a wax-paper lined baking sheet also works if you don't have a cooling rack). Allow the oranges to cool and firm up a bit. Candied orange slices can be store up to 3 weeks in the refrigerator. Just layer the slices between pieces of wax paper in a plastic storage container.
This is just the tip of the party iceberg, guys!  In fact, this is amazingly tame compared to what I have in store for this weekend.  But I've a lot of work to do between now and then.. so see you Sunday!! ^_^