After
my adventure with chioggia beets
the other day, I was left with the greens.  The vendor I bought the beets from told me chioggia beet greens were his favorite, so I was especially excited to try these.  I didn't want to do the same sautéed greens I'd done so many times before though… I wanted something more unique.  A month or so ago I'd tried making beet green chips like the kale chips I liked so much, but they were too thin and didn't turn out well.  I searched through books and websites for recipes, but kept coming up with the same ol' sautéed or steamed greens recipe.  Whenever I'm trying to think of something creative with an ingredient, I think of similar ingredients and their applications.  This made me think of spinach.  What's a cool spinach dish?  Spanakopita!
Of course, I'd never made spanakopita (the traditional version) before, but inexperience has never stopped me before.  I had a recipe I'd been meaning to try, anyway.  So I just substituted beet greens for the spinach, and I was set!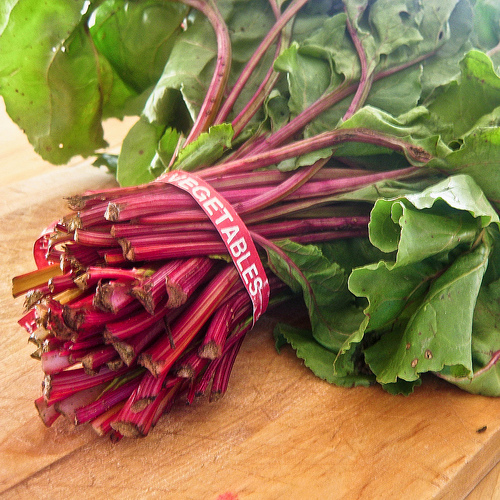 The hardest part of making these crispy little guys was folding the phyllo dough.  This was also my first time working with it, so if you're used to it it will probably go much smoother for you.  I was able to get some good-looking triangles by the end, and all's well that ends well, right?
So what about the taste?  They did taste slightly different than traditional spanakopita, but not as much as you'd think.  The greens have a bit more sweetness, and a very subtle beet-y taste.  My friend said they might be the best spanakopita he'd ever had!  Oooh… why thank you!
2 tablespoons olive oil

1 medium yellow onion, peeled and minced (a

food chopper

is perfect for this!)

12 oz beet greens with stems removed, well-washed and dried

8 oz feta cheese, crumbled

2 tablespoons Italian parsley, finely chopped

Freshly-grated nutmeg

1 large egg, at room temperature

Lemon juice (preferably fresh)

16 sheets of phyllo dough, thawed if frozen

3-4 tablespoons butter, melted

Salt and freshly-ground pepper
1. Heat the oil in a saucepan over medium heat.  Add onions and sauté until soft and translucent.
2. Add the beet greens to the pan and season lightly with salt and pepper.  Cover and cook, stirring occasionally, until the greens are totally wilted, about 7-8 minutes.
3. Drain the greens into a colander and let cool.  When they've cooled completely, squeeze out the extra liquid, then chop the greens into small pieces.
4.  In a small bowl, mix the greens and onions with the feta and parsley.  When you have a nice chunky mixture, taste and add grated nutmeg and a splash of lemon juice.  If needed, season with a bit more salt and pepper.  Mix in the egg.
5. Lay out the phyllo dough, keeping it covered with a wet towel to prevent drying.  Now you have to work quickly, but carefully!  Lay out one sheet of dough and brush lightly with butter.  Place another sheet directly on top of the other one, and brush this one with butter too.
6. Place about a 1/4 cup of the greens mixture in the center of the dough, about an inch from the edge.  Fold both sides over the filling, lengthwise.  Now you should have a vertical rectangle of dough with the filling near the top.  Brush the exposed dough with butter.
7. Fold a corner over, then another, and keep folding (as if folding a flag), making sure to brush with a tad more butter after every fold to keep it all together.  When your triangle is all folded up, place it, seam side down, on a baking sheet, and brush the top with butter.  Repeat for the other 7 triangles.
8. Place the baking sheet in a 350
°F oven and bake until golden brown, about 25 minutes.  When done, removed from pan and let cool slightly on a cooling rack.  Serve warm.
These are great as a snack, appetizer, or side dish!
Have a delicious week, everyone!