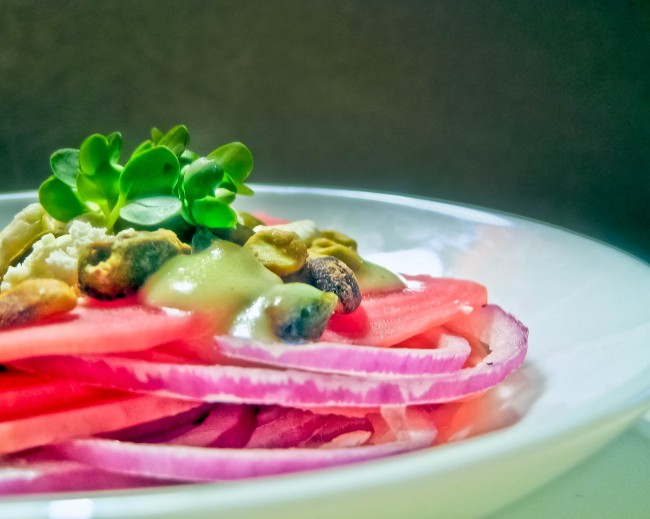 Beets are a polarizing veggie.  People either love 'em or hate 'em, and when they hate, they really hate.  I've seen people get disgusted and offended at the mere mention of them, I've seen online groups dedicated to beet-bashing… even President Obama has a firm anti-beet stance !
But I'm of the option that beets aren't bad; they're merely misunderstood.  I'd like to offer an olive branch (or… beet branch?) to you beet-haters out there.  Come see how fresh, tasty, and beautiful beets can be!  I offer you this simply delicious recipe… the same recipe, I might add, that even converted some of my friends to the wonderful world of beets.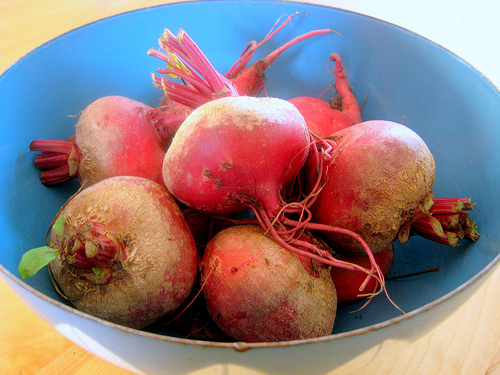 Come on… give beets a chance!
First of all, beets aren't always glaringly red.  Sometimes they're a golden yellow, a warm violet, or even candy-striped!  Yep, they're called "chioggia beets," and feature a distinct red and white ring pattern when you cut them open.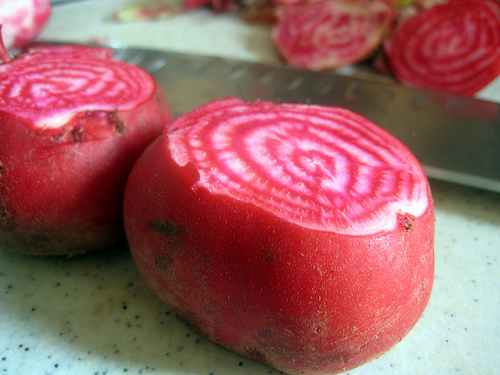 As for beet carpaccio, I first tried it out with golden beets, using a recipe from Restaurant Widow as my inspiration.  I had some photos, but not great ones, so I put off posting it here.  After cooking up those little chioggias last week, I sought out more at the farmers market this week (bigger ones, with the leaves) so I could make carpaccio.  I actually couldn't for the life of me find the above link (until now, that is), so I ended up relying on memory and analyzing my golden beet photos to figure out a new recipe.  I liked it even better than the first time, especially with this variety of beets.
If I've been confusing any of you with the term "carpaccio," yes, it's usually used for dishes of thinly sliced, often raw, meat.  I remember having a divine beef carpaccio with truffle oil once… sooo good!  But lately you can find a carpaccio of almost anything.  Beet carpaccio is a pretty common one, so I'm not inventing it by any means.  Also, the beets in this dish are not raw, and let me tell you why.  When making a simple beet salad last week, I was going to do it raw.  I tasted a slice of chioggia beet as I was preparing it, and soon developed a sharp, burning feeling at the back of my throat.  I guess is a pretty common reaction, especially with this variety of beets, so just be careful if you're ever about to have raw beets or beet juice.  Some people have no problem with it, and for the record I was fine and the feeling dissipated after 10 minutes, but it never hurts to make sure.  This has been a public service announcement.  You can now return to your regularly scheduled recipe.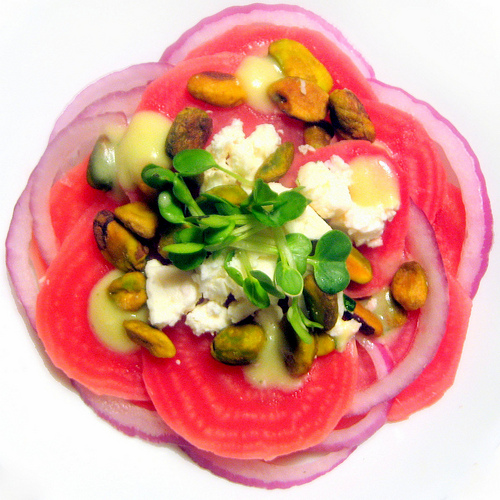 This salad is perfect as a side dish, starter, or even a light lunch!  I served it along side a horseradish-crusted rack of lamb, and it was an amazing combo.
Beet Carpaccio
for salad:
1 lb beets (preferably chioggia), trimmed and peeled

1/4 cup lemon juice

1 small red onion, thinly sliced

1/2 cup roasted pistachio nutmeats

1/3 cup feta cheese, crumbled

1/4 cup microgreens (I used radish)
for dressing:
2 tablespoons white wine vinegar

2 tablespoons sour cream

1 1/2 teaspoons chopped fresh tarragon

1 teaspoon superfine sugar

1/3 cup olive oil

salt and white pepper
1. Thinly slice the beets with a mandoline slicer.  Place the slices into a bowl and toss with 1/4 cup lemon juice.  Set aside. (The lemon juice will help preserve the color of the beets when you cook them, so let them sit at least 10 minutes while you prep everything else.)
2. Make the dressing: Mix together vinegar, sour cream, tarragon, and sugar with a wire whisk until well-blended.  Slowly add the olive oil, while whisking constantly.  (This creates an emulsion).  Add salt and white pepper to taste.  Cover and refrigerate until ready to use.
3. Bring water to a boil in a large pot that has a steamer tray.  If you like, add salt and a splash of lemon juice to the water.  Once boiling, place beet slices on the streamer tray (it's alright if they overlap slightly).  Cover and steam for 5-6 minutes, or until tender yet firm.  Briefly shock the beets in an ice bath, then drain.
4.  Layer the beets and onions on four small plates.  Sprinkle with pistachios and feta cheese crumbles.  Make sure the dressing is well-stirred, then lightly drizzle over the salad.  Top with microgreens.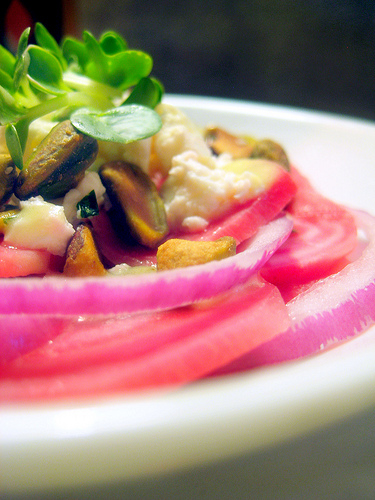 See? Beets don't have to be so scary, weird, or ugly.  Beets can be beautiful and utterly delightful.  Beet lovers, enjoy this recipe and beet skeptics, please try it out and see if it changes your mind!
Where are you on the whole beet dispute?  If you like them, what's your favorite recipe?  If you hate them, why?


(P.S. Want to know what I did with the especially delicious chioggia beet greens?  I made beet green spanakopita!   Here's the recipe!)