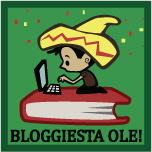 Today marks the start of
Bloggiesta
, a cool "blogging" marathon hosted by
Maw Books Blog
. That cute little guy up there is named Pedro: Plan. Edit. Develop. Review. Organize. Isn't this a creative idea?
Despite being sick as a dog today, I'm going to try to devote what time I can to working on my new all-bento blog that I'm planning on debuting in the next couple of weeks! My goal is to set myself up right for this sister blog to
PopArtichoke
, since one blog is enough of a hassle for me to maintain sometimes. A little organization goes a long way for bloggers, so I hoping this will make it easier and more fun to have two blogs running at once! Please stay tuned for this new bento blog!
And while I'm making plans, here are a few of my blogger goals for the upcoming year. These will apply to PopArtichoke mostly (since I've had time to see what I have done and would like to do more of) but also to the upcoming bento blog:
1. Write more reviews. This includes books, cooking gear, restaurants, even related websites. Also, on the rare occasion I get to go out of town, I want to make sure I review restaurants and markets outside of Chicago, so I can offer a broader spectrum of reviews to my readers.
2. Keep up with the holidays and write relevant posts! I work at a grocery store, so I'm more than aware of upcoming food-centric holidays. This past winter was my first holiday season as a food blogger, and I didn't really take full advantage of it. I was aware of this at the time, but I was bogged down by the stress of the holidays. Planning ahead is a strategy I'd like to employ to ensure I don't skip over holiday posts this time around!
3. Post more regularly. This is something I really want to keep in mind when I have two blogs going. When I have free time, I want to write posts that can be posted in the future; that is, start a back-log of posts to help myself out when I'm pressed for time.
4. Get a new camera and improve my photography. I get feedback from a lot of my friends that my photos taken with my simple point-and-shoot are just fine. I appreciate this, but it's not as simple as it may seem for me to get good photos from the thing. There are a decent amount of posts I just haven't done because my photos weren't good enough. Plus, this thing is horrible with artificial light or motion, which has made these winter shots so frustrating for me. If anyone has suggestions on good, fairly affordable dSLRs, I'd really appreciate some guidance!
5. Give myself a break. This may seem contradictory after reading those last 4 goals, but I think it's more than necessary to accomplish everything else. In my first 6 months of being a blogger, I've found this hard to do. I work 40 hours a week, and, believe it or not, like to sleep every now and then, so finding time to cook, photograph, and write for the blog can be a bit taxing. My goal is to stress out less, write when I'm in a good writing frame-of-mind, and keep this fun and adventurous. I view blogging as a second job (that, as of now, does not pay) but at the same time, it's so rewarding and exciting, and I don't want to lose sight of that. I'd recommend this to all of my blogger friends!!
A great way to help me out and keep track of any news is to follow me on
Twitter
, "like" my page on
Facebook
, or add my RSS to the reader of your choice. Thanks so much for all the support you've all given me so far! I can't wait for the new blog and an exciting, bento-filled future! ^_^